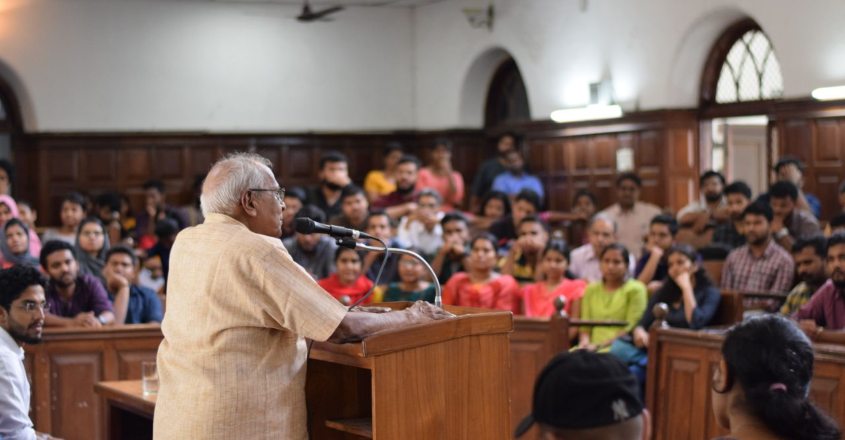 Ernakulam: The Government Law College here released its college magazine for the academic year 2018-19 last week. The magazine titled 'Manushyan' -- meaning 'human being' in Malayalam -- is set on the theme of resurrection amid diversities.
Former MP and vetearn CPI(M) leader M M Lawrence officially released the magazine at a function held at the central assembly hall of the college on July 30.
During the inaugural address, Lawrence said, "We have been boasting of unity in diversity since Independence. But, today, we witness diversity being accused of as a crime. Diverse thoughts, actions and movements are being suppressed under a fascist regime. College magazines are one such space where thoughts gain strength and momentum and students gain the confidence to oppose wrong ideas and injustice."
He also talked about his experience as a political leader and how he had found that pen is mightier than a sword. He also reminded the students that they are part of a a pioneering institution, the first Law College in Kerala, and they should be proud of it.
He fondly remembered days where he visited the college to listen to speeches and discussions.
Magazine editor Rahul pointed out that all the articles, poems and experiences laid down in the magazine reflect the thoughts of students about the contemporary scenario.
The magazine is titled 'Manushyan' as it celebrates life in the raw, he noted.
The editor shared diverse experiences he had garnered while working on it. He claimed manual scavengers in Kochi who worked during midnight on MG Road refused to be interviewed for the college magazine article as they feared losing jobs. His article on the issue too is included in the magazine.
College Union Chairman Sooraj T S presided over the function. Principal Dr T G Agitha delivered the felicitation speech. Assistant professor and magazine in-charge Dr Bindumol V C shared her experiences on working with the students for its release.
A video teaser of the magazine too had been a huge hit in the college, which featured law college student Aryasree's recital of a socially relevant poem.
University union councillor Maneesh rendered the vote of thanks.