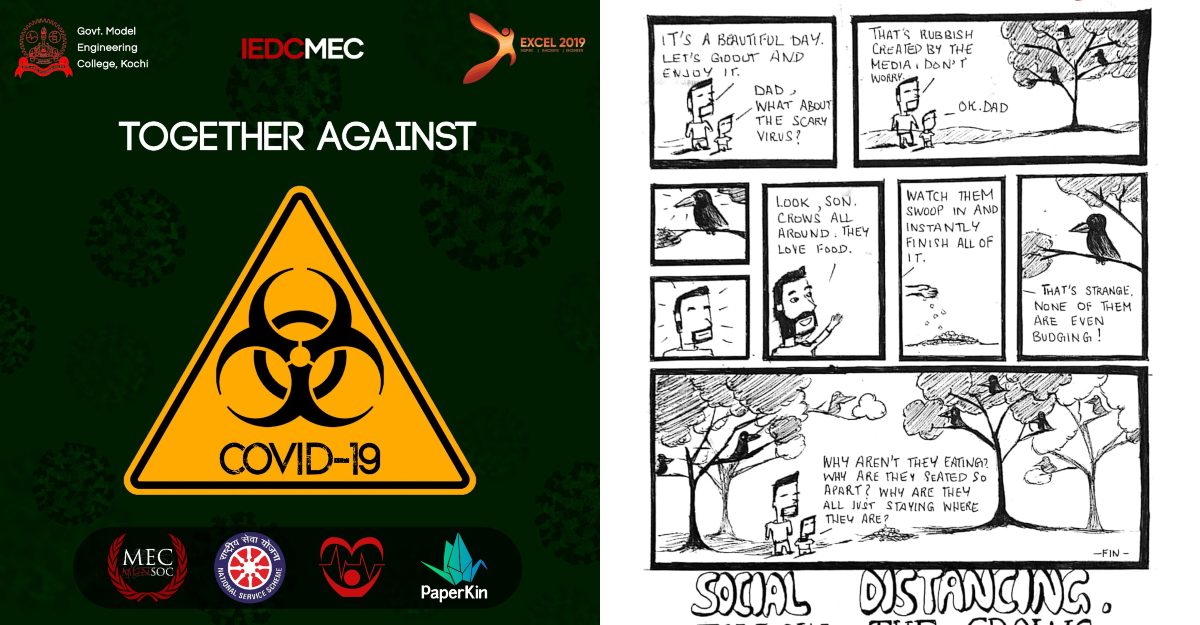 Innovation and Entrepreneurship Development Cell of Model Engineering College (MEC) Kochi also known as IEDC MEC conducted a 10-day online awareness campaign for COVID-19 pandemic, demanding the youth to stay at home to control the spread of the disease.
IEDC MEC, for this initiative was partnered with 'Excel,' the annual techno-manegerial fest of MEC and also collaborated with other like-minded clubs like the MEC MUN Society, NSS MEC Unit, 'Impulse,' the technical blog of MEC biomedical students, and paperkin – the official blog of MEC students.
From giving essential details on the coronavirus outbreak in Wuhan, it's spread to other parts of the world, the campaign also included the most essential topics like consequences of panic buying, community spread and why social distancing is essential.
The campaign sought to bring stories of students from all over the country, and even outside, to inspire and motivate the students to use this difficult period for productive purposes. Instead of just asking students to stay at home, IEDC ensured that students are given insights on how to differentiate between real and fake news being spread on social media, and to use sites like WHO. The entire campaign focused on how students can utilize the lockdown time effectively by reading books, and taking online courses.
The campaign started with a poster series, asking bright and talented students on how they spend their quarantine time and also about their hobbies. From Kochi to Delhi, many students of law, arts, design, music etc shared their most preferred way of spending time.
The artistic students of MEC, made satirical comic strips and blog articles brining awareness on washing hands, voicing against panic buying and vouching for social distancing, the three golden terms of the lockdown period.