For the second time this month, Prime Minister Narendra Modi has claimed that his party, BJP, was growing in strength in Kerala.
Addressing BJP supporters at the party headquarters in Delhi on Tuesday, Modi claimed that the saffron party was "spreading its wings in south India".
Earlier this month, at the same venue, Modi had said BJP will come to power in Kerala as it has succeeded in the recent assembly elections in the Northeast.
"In Karnataka, BJP is the number one party, we are in a strong position there. In Telangana too, BJP is the only party the public trusts. The trust keeps increasing day by day in Andhra Pradesh," Modi said.
"In Tamil Nadu and Kerala, BJP is growing in strength daily, in every district, even at the booth level."
Recently, an archbishop of the Catholic Church in Kerala had proclaimed that the farmers of the high ranges would deliver a Parliament member to the BJP if the Centre increased the price of rubber to Rs 300 (more than twice the existing price).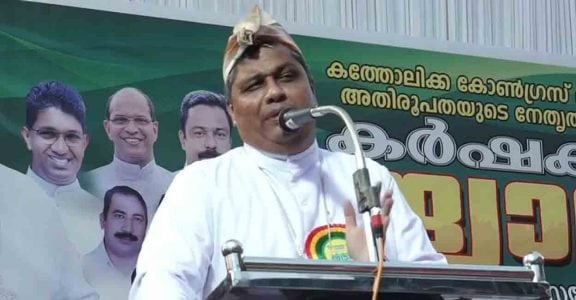 Thalassery archbishop, Mar Joseph Pamplany, who made the comment at a public meeting while addressing high-range farmers, has faced a barrage of criticism from the ruling LDF and the main opposition, Congress in Kerala for taking a stand in favour of the BJP.
Sathyadeepam, the mouthpiece of the Ernakulam-Angamaly archdiocese criticised Pamplany. It said the archbishop 'mortgaged' the pride of farmers for Rs 300.