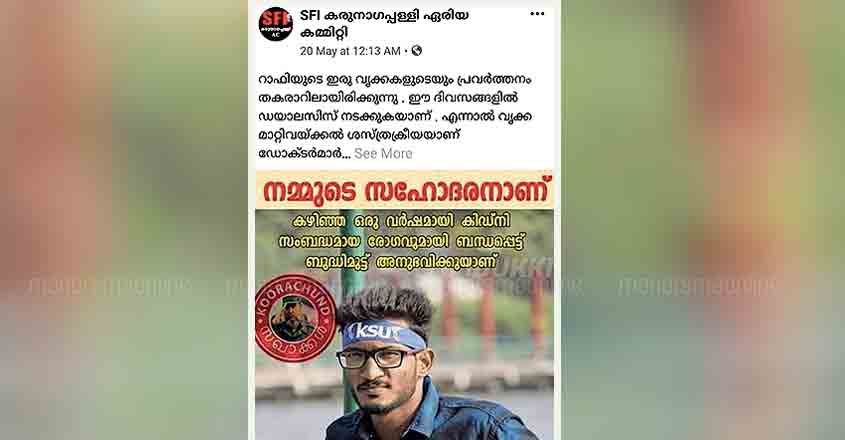 Alappuzha: Student politics is often berated for campus violence it may engender at times. In Kerala political activity in educational institutions is at a high pitch and regularly violence is reported. Rival students unions take on each other with such vehemence that even lives are lost. Refreshingly, they have now united for a noble cause -- saving the life of a student leader.
A KSU activist suffering from renal failure is receiving help from none other than SFI activists. A former SFI leader is one among several people across the political spectrum to offer a kidney to the ailing student leader Muhammed Rafi (22) who is a member of the Kayamkulam block committee of the KSU.
SFI Idukki district committee and its Kollam Karunagappally constituency committee have sought help for Rafi. On social media, they have shared a picture of Rafi wearing a KSU headband while seeking aid.
Former chairman of Kayamkulam MSM College and SFI activist E Shanavas Khan offered to donate a kidney for Rafi. Renjith, a Congress activist from Kannur, and Aju, a Youth Congress activist, too came forward.
The SFI has also started collecting donations for medical expenses, said SFI Karunagappally area secretary S Sandeeplal.
Rafi's family lives in a rented house, where mother Reyhanath is the only breadwinner.
KSU or the Kerala Students Union is the students' wing of the Indian National Congress, whereas SFI or the Students' Federation of India is the similar outfit of the Communist Party of India or CPM.