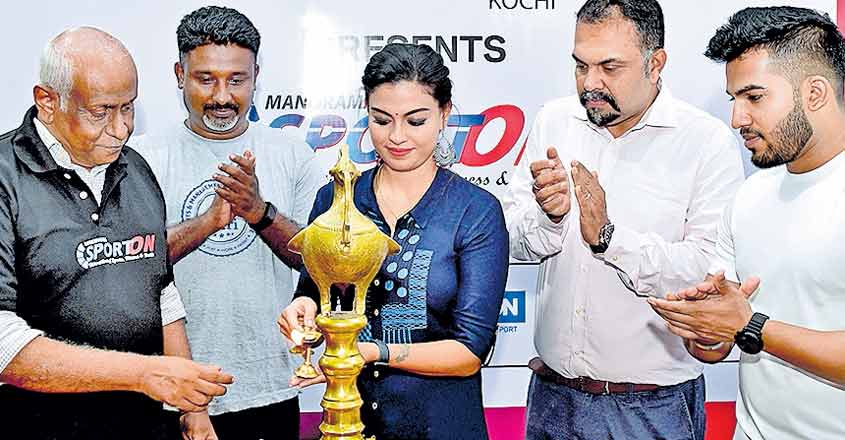 Kochi: Malayala Manorama's 'SportOn' fair, featuring wide-ranging sports and fitness equipment as well as fun events, has kicked off at the Kaloor International Stadium here.
The first-of-its-kind event in South India was inaugurated by actor Anushree. Entry is free to the fair open from 2 to 9 pm until May 20.
Global sports and fitness brands are featured in different stalls.
The fair also includes interesting contests, one of which – iron man and iron woman – was held on Thursday.
Arm-wrestling will be held on Friday and a Strongman event is scheduled for Saturday at 6pm.
Register for run
A 5km fun run will be held on May 19 morning. Register for the run at www.manoramasporton.com, or at the Sport On venue or at Manorama offices in Kochi or Kottayam. Participants can also choose to register at the venue at 5am on May 19. Registration fee is Rs 500.
Winner takes away Rs 72,000 cash prize.
All who complete the race win a t-shirt, medal and certificate. Breakfast is also available.
Martial arts exhibition
A training and exhibition of martial arts forms by Kerala Kicking Boxing Association will be held on May 19 evening.
A sports fashion show will be conducted at 6 pm on May 20.
The main attraction at the fair is a 9,000 sqft game zone.
Jain University is the prime sponsor of the event. Aster Medicity (health partner), Royal Enfield (2-wheeler), Decathlon (sports), Dark 1 Fitness (fitness) and SMRI (games) are the co-sponsors.