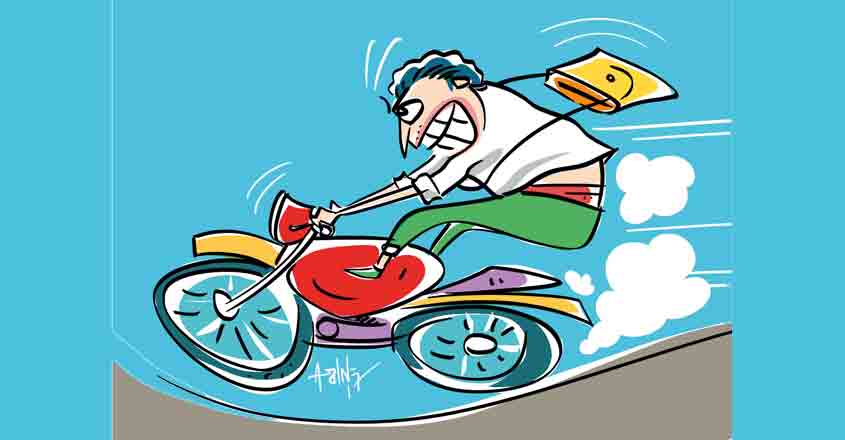 Thodupuzha: It's not the rule of Mahabali anymore. Thieves are in plenty, especially during Onam. Busy festival markets and crowded transports are their favourite spots. A visit to the relatives' could become costly as more unguarded houses are targeted during this period. Hence the police have stepped up surveillance for the holiday season.
Women power

They come well dressed and work in gangs, taking advantage of markets, jewellery stores, textile shops and places of worship. They empty pockets and bags and go for jewellery. The police say such women gangs are difficult to detect. They are more tactful than gang of men. These well-dressed women wiggle their way through packed public transports like buses, snatching anything from purses, bags and jewellery.

Some are quite tactful. They present a pleasing personality and gain the target's trust with sweet words. Saris and shawls provide good cover. They sometimes pretend to sleep and lean on to their target. But they will be digging into an unsuspecting victim's purse or bag. The theft will come to the fore only after the perpetrator has left.

Packed buses are a favourite place for them. Some Tamil women put men pickpockets to shame, say police. They often pass on the loot to an aide and get off the bus right after the theft. They come so well dressed that spotting them is not easy. Some carry a pair of attires and change into a different one soon after getting off the vehicle.

Snatchers on two-wheelers

With gold touching Rs 29,000 a sovereign, bike-borne chain snatchers are on a roll, say police. Such gangs, mostly youth, use fast bikes with fake number plates.

Women should avoid walking alone on deserted roads, especially during the night. Beware if people in full-face helmets approach asking for directions. Some feign familiarity to get near their targets. Snatchers need to get very close to do so. Hence, move away quickly if approached. Cover jewellery under dress if possible. If attacked, call for help, inform the police and try to recollect some features of the assailant and vehicle.

People lost in their mobile phones or listening to music on headphones are easy targets. Keep valuables secure while travelling, avoiding huge sums. Do not keep originals of driving license or other IDs in bags. Avoid close proximity of strangers. Check for valuables as you start and end a journey.

Village gangs

Thieves from the notorious Tamil Nadu village will come to the state to make most of the 8-day holiday window. Banks and ATMs have strengthened security. Bank employees are given special training and a special emergency arrangement is made to contact police in case a thief is spotted.