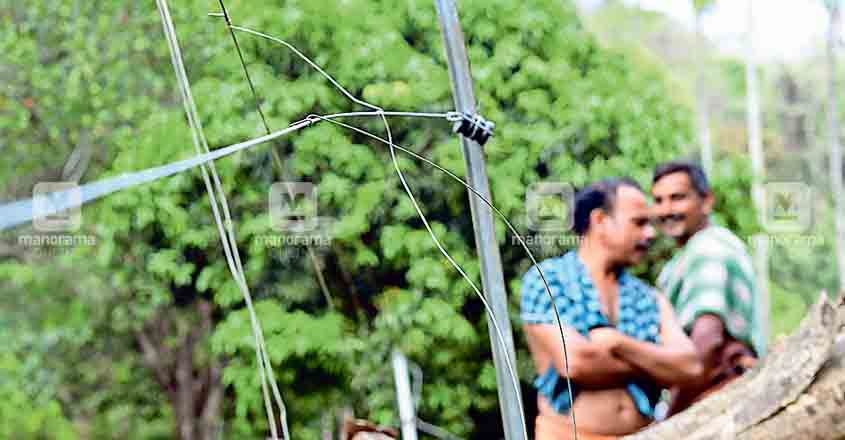 Kannur: The jumbo menace has worsened in 11 panchayats of Kannur district. Wild elephants coming from Aralam, Kotiyoor, Makoottam, and Brahmagiri regions are ruining the plantations.
The farmers are left calculating the losses as their tried and tested methods no longer seem to scare away the wild elephants.
Crackers not scary anymore
Earlier, farmers burst firecrackers and made loud noises by beating drums to scare away the tuskers. But now the elephant stands its ground no matter how many firecrackers are burst. Some farmers even claim that there are elephants that seem to enjoy the beats of the drums. No matter how much noise is created, the elephants return only after having to the heart's content.
The wildlife authorities also said that it was not possible to chase away elephants using the sound that they have already become familiar with.
Solar fence
Though long stretches of solar fence were put up to prevent the elephants from entering, the jumbos learned how to destroy them within some months. The rod on the fence do not conduct power. The jumbos seem to have correctly identified this. They destroy the fence by bringing down the rod with a good kick.
Or else they uproot a tree and let it tumble over the fence. It is not easy to destroy a solar fence. Therefore, the jumbos sometimes walk the entire stretch of the fence and find out the damaged portions to enter human settlement areas. If the baby elephants find it difficult to pass through the fence, they are lifted and passed over the wall.
Attack mode
The farmers mostly fear herds with baby elephants as the tuskers are ready to do anything to ensure the safety of the little ones. It is very difficult to chase away such herds. The wild elephants are ready to attack even at the slightest provocation.
Focus on food
Elephants love to eat jackfruits. When it is time for the jackfruits to ripen, the elephants too arrive from the forest. There have been instances of elephant herds taking over plantations. The elephants also like to feed on banana, coconut and bamboo.
Once they identify their source of food, elephants are known to return. Several farmers have suffered multiple times due to this. Aralam farm region is one such marked area and has already witnessed deaths of six people in wild elephant attack.
The Kerala jumbo
Earlier, wild elephants from Karnataka forest regions used to enter human habitation areas in Kerala and leave after some days. However, after Karnataka sealed their borders, most of these elephants could not return. They have thus become the permanent residents of our state.
A lone elephant might return soon after entering human habitation. But if four elephants enter together, they wait until all of them are ready to retract. An elephant, that came with its herd to Adukathotti in Kasaragod, died. Even two months after the incident, the other elephants from the herd have not returned to the forest.