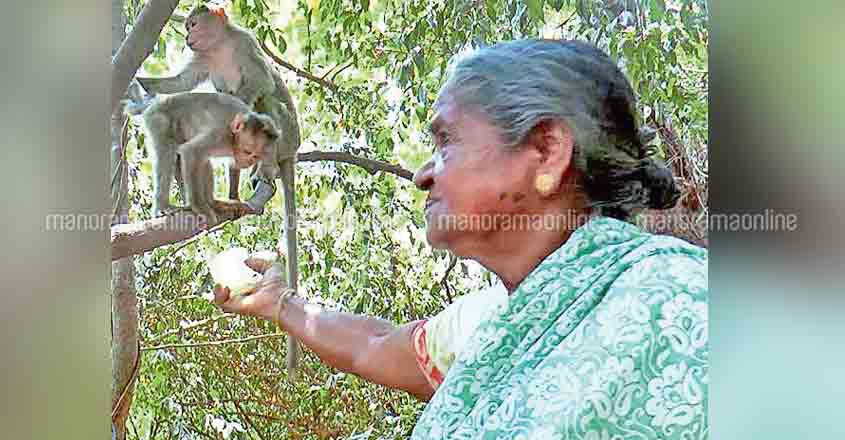 Trikaripur: Monkeys inhabiting in the island of Edayilakkadu Kavu here in Kerala's Kannur district are bearing the brunt of blistering summer. The pond adjoining their habitat used to be the big solace to the 40 monkeys, but not until it dried up this summer. The primates, in their frantic search of a drop of water, have finally found a saviour in an old lady, Chalil Manikamma, who brings water and other nourishment to the monkeys as they scramble down.
Though the monkeys turned out to be a menace in the neighbourhood soon, Manikamma continued her habit of giving rice to the creatures. But as summer set in she could not bear to see the hardships of the simians running helter skelter for a drop of water. Worried Manikkamma now takes water and paper cups along with rice balls for these animals and they would come rushing to gulp them down as soon as they see her.
It is feared that the monkeys of the island, which is rich in biodiversity, would get dehydrated and die for want of water. Their numbers have dwindled over the period owing to various reasons.
The islanders have taken conscious effort to increase their numbers with the active involvement of Edayilakode Navodaya Library. Though steps were taken revive the pond by bringing it under a backwater protection scheme, it did not get the approval of the government.