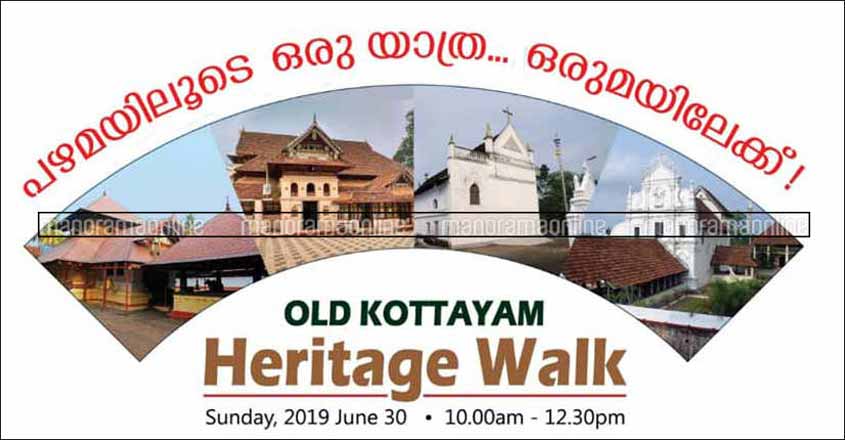 Kottayam: Here is a spectacular chance for history lovers to 'walk' through the rich heritage and unique legacies of the old Kottayam town. The heritage walk, to know more about the scintillating history of the town, is conducted by the Nattukoottam group led by St. Mary's Orthodox Syrian Church, commonly known as the Cheriyapally.
The event will be held on 30th June, in association with the Thaliyil Mahadeva temple advisory committee, Thazhathangadi Juma mosque and Kottayam Holy Virgin Mary Church (Valiapally).
The heritage walk which begins at 10am from the Cheriyapally premises would be flagged off by Thiruvanchoor Radhakrishnan MLA.
The old Kottayam town, the administrative capital of the erstwhile Thekkumkoor royal house, is replete with history and the thrilling tales of the kings. The heritage walk intends to revisit the unique geographical features, heritage buildings and centuries old places of worship which had great significance in the social and cultural life of the old Kottayam town.
The history enthusiasts would take an exciting tour, on feet, through the Thaliyil Mahadeva temple, Thazhathangadi Juma mosque and the Kottayam Valiappally before returning to the Cheriyappally.
The valedictory meeting would be inaugurated by P N Ravivarma Raja, the valiakoyi thampuran of the Thekkumkoor royal house.
The meeting will be presided by Father PA Philip, the vicar of the Cheriyapally. Dr. Mathew Joseph Chengalavan, associate professor at the Delhi Jamia Milia Islamia University would take part in the event. Haridas Bhattathiri, the head priest at the Thaliyil Mahadeva temple, Hafiz Sirajuddeen, the imam at the Thazhathangadi Juma masjid, Kottayam valipally vicar Father Monayi K Philip, Nattukoottam secretary Pallikonam Rajeev, Father Yohanon Baby, Father Joseph Kurian, assistant vicars at the Cheriyapally, trustee Jacob Mathew and secretary George Abraham too would be present. Everyone, irrespective of their religion, can take part in the heritage walk.