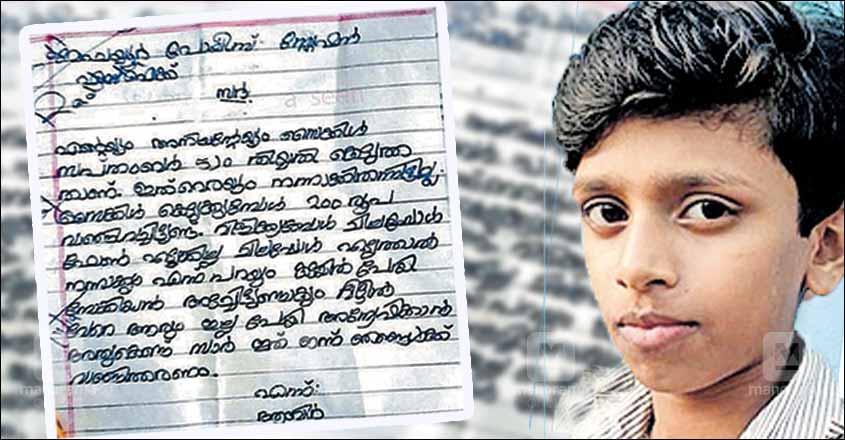 Meppayur: Police are often blamed for apathy and high-handedness and their prompt and effective action therefore stand out. The image of Kerala Police had taken a severe beating of late, but the latest one involving a bid to redress a child's grievance may help to redeem it a bit.
All that Abir, aged just 10, wanted the police to do was to help him recover his bicycle. The schoolboy had the grit to visit the police station with a complaint handwritten on a page of his notebook and his effort did not go waste.
In his complaint, Abir addressed the Sub-Inspector (SI) of the Meppayur police station in Kozhikode district. He said that a bicycle belonging to him and his brother had been given for repairs on September 5. "However, the man at the workshop has not returned our bicycle so far. Moreover, he took Rs 200 from us when we gave the bicycle for repairs," said Abir.
He appealed to the SI to get his bicycle back as there was nobody at home who could help him in this regard.
The complaint further said that several attempts were made to contact the owner of the workshop over phone. "Most of the time, he never picked up the phone. When he did speak, he would always say that the bicycle would be repaired soon. We even went to the workshop, but found it shut," said Abir.
For A K Sajeesh, the SI of the Meppayur police station, it was the first such incident in his career so far. However, he took it in all seriousness.
Civil Police Officer (CPO) N P Radhika, who is also the beat officer, was assigned by inspector G Anoop to investigate Abir's complaint.
Radhika called the workshop owner Balakrishnan, who promised to repair Abir's bicycle within a couple of days. Balakrishnan also explained that the delay occurred as he was keeping unwell and also busy with his son's wedding preparations.
Abir, a Class-5 student at MUP School at Elambilad in Vilayattoor is the son of Shafeek and Sajitha, residing at Narikkuni Thazham, Meppayur.