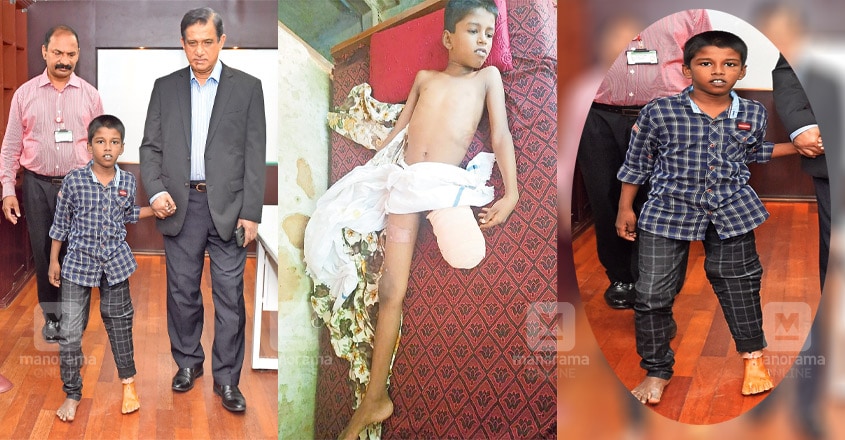 Thiruvananthapuram: Right help at the right time can do the distressed a world of good. Despite significant improvement in healthcare facilities, India is still lagging in raising support infrastructure for the handicapped in the form of accessible public places. Even procuring aids and appliances required by the disabled, including amputees, is a challenge especially for the poor.
Anashwar, a Class V student, hailing from Vellarada in Kerala's Thiruvananthapuram district, can stand tall again, courtesy the KIMS Hospitals which came forward to provide a custom-made prosthetic leg to him free of cost.
He had lost his left leg after an accident in February. The badly injured limb had to amputated and his parents were not in a position to raise Rs 3 lakh for an artificial leg.
Anashwar's father, a driver, is unable to go for work currently and his mother is undergoing treatment for depression. After 'Manorama' ran a story on Anashwar's precarious situation, the Jaipur Foot Centre at the KIMS Hospital came forward to donate the artificial leg. The hospital also bore all related medical expenses.
Dr Prasad Mathew of this unit took measurement for the artificial leg required for Anashwar.
The first unit of the Jaipur Foot Organisation was opened in Kerala at the KIMS Hospitals six months ago. To date, the Jaipur Foot Centre here has provided artificial legs to 300 people and 200 other patients are on the waiting list, said Dr Mathew. Besides, four patients were given prosthetic hands.
KIMS Hospitals is a chain of healthcare centres. KIMS stands for Kerala Institute of Medical Science.
Rajasthan-based non-profit organisation Bhagwan Mahavir Viklang Sahyata Samiti is popularly known as the Jaipur Foot Organisation. It is reportedly the world's largest organisation engaged in the rehabilitation of the disabled by providing artificial limb. The rubber-based prosthetic leg designed by it is known as Jaipur Foot or Jaipur Leg.