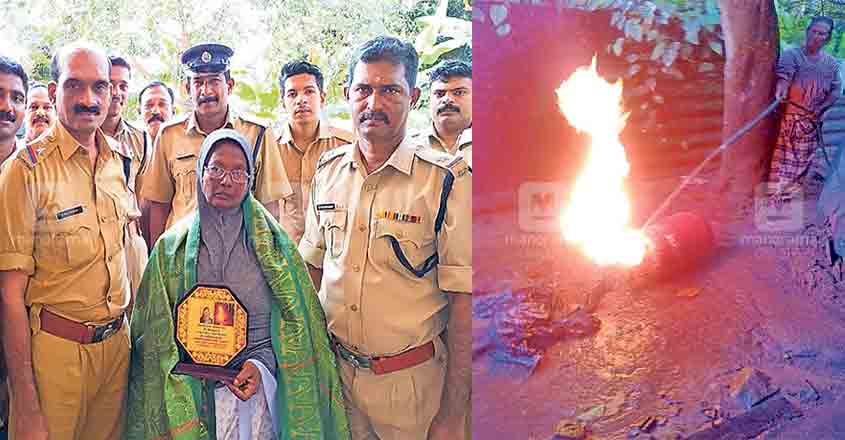 Varkala: LPG blast often turns destructive and fatal and for these reasons people panic on coming across a risky situation after a leak or extreme pressure build-up. An elderly woman here in Kerala's Thiruvananthapuram district shows us a way how to conduct ourselves in case of a fire hazard caused by leaking gas.
A resident of Kappil area, Ruqiya Beevi, 70 was lighting the stove early in the morning on November 5 when gas leaked from the cylinder and it caught fire. Without losing her presence of mind and displaying exemplary courage, Beevi shoved the burning gas cylinder outside her house. She then used a hose to douse the cylinder with water till the Fire and Rescue Services personnel arrived.
Others in the house and people in the neighbourhood watched in horror from a safe distance as Beevi cooled the blazing gas cylinder with water from the hose. In fact, the brave Beevi's timely act had saved her house from being gutted as well as the lives of its residents.
Recognising the significance of Beevi's action, the Fire and Rescue officials honoured the lady the other day.
Such preventive measures would go a long way in checking major disasters and Ruqiya Beevi has set an example for society, said officials.
Those who spoke at the function organised at Fire and Rescue station in this regard included assistant station officer P Anil Kumar and personnel Vinod Kumar, Mukesh Kumar and Rejimon.
Hazards involving LPG happens often due to reckless use of the cylinders and stoves. Faulty tubes, appliances and cylinders too may result in fire hazards and explosion wrecking property and killing people.