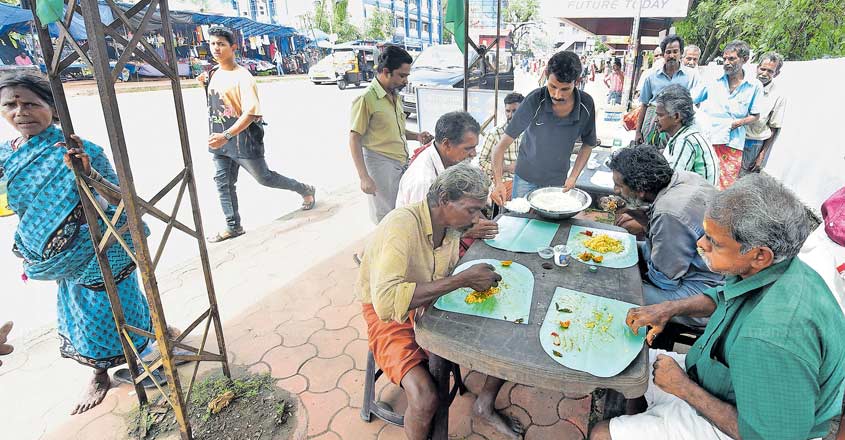 Thrissur: Kerala has made significant strides in combating hunger even as the country fares poorly in the Global Hunger Index as was reported recently. Organised donation of free food is popular across several towns and in major institutions across the state which has the lowest poverty rate in India. If anyone is penniless and hungry in Thrissur city, they need to go to the abandoned bus shelter on Pattalam road for a sumptuous lunch and remarkably it is served with no strings attached.

The meal is provided by a group of youngsters under the banner of Mother Janaseva Charitable Trust at Vadookara near here.  Trust chairman Jaison Paul and his friends serve lunch from 12 noon to 2 pm at the defunct bus shelter.
 
Two tables and 8 stools are arranged to serve rice along with 'sambar' or fish curry, 'thoran', pickle and salad. The free lunch will be served for 100 to 150 people per day. It is not that only nomads and beggars can have free lunch, anybody without money to buy one square meal can step in to have a hefty meal.

The food is prepared at a kitchen near Jaison's house at Vadookara and cooking will start at 7.30 am. The free lunch is served on all days except Sunday.

The food will be taken to the bus stop on Pattalam road in an autorickshaw by 11.30 am. The bus stop will always be clean as the food waste, including plantain leaves, will be deposited in garbage pits near Jaison's house.
 
Jaison and his friends are involved in this noble service for the past two years though they started to give free food packets, two to three days a week, to the homeless in the city about four years ago. As Jaison and friends found that people used to take the sides dishes and throw away the rice in food packets, they decided to directly serve gruel and 'puzhukku'.

After serving gruel for 6 months, they decided to migrate to serving sumptuous meal, for which the daily expense is about Rs 5,000.  

Jaison, who is running a small fruit stall in Kochi, said that they collect money to meet the expenses from people directly or by contacting them through phone. Earlier, Jaison was involved in selling eveningers while staying at the annexe of Ernakulam corporation. During that time he used to distribute food packets to destitutes by joining hands with coporation officials.

Later he moved to Thrissur and started associating with Matrika Charitable Trust. After marrying Binu Mariya, Jaison who is a native of Angamaly, settled down in Vadookara, and now his wife oversees the preparation of food for free lunch. Their motto is to feed at least one person a day.

The Trust is also ready to distribute excess food prepared for marriage and other special occasions to people who are in need of food. You can also be part of this noble cause, just call: 7025907269.

The team includes Jaison, Binu Mariya, Shine James, a former bus driver from Ollur; V A Ismail, a workshop worker from Irinjalakuda; Sreejith, auto driver from Aranattukara; Remya, housewife hailing from Ammadam; and another Remya who is a teacher.

Many others are also part of this venture by donating money and vegetables.