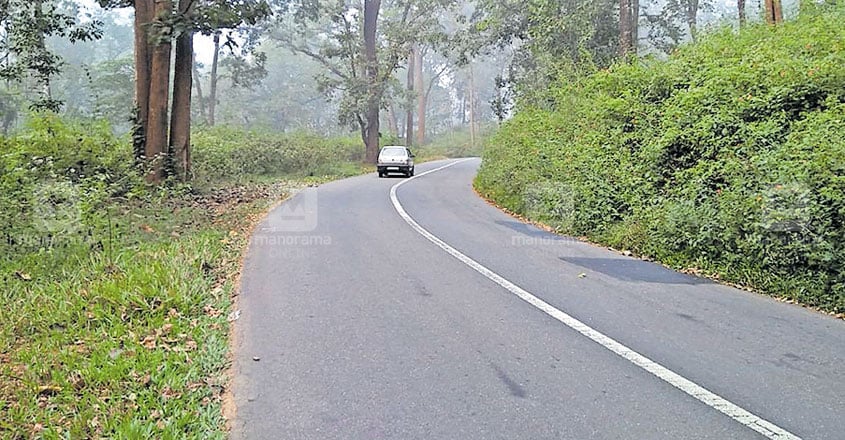 Pulpally: It is really scary driving along the roads in Wayanad as motorists have to be alert to wild animals straying on to their path. Motorists are also worried about the legal hazards as forest officials have been registering cases under non-bailable provisions for accidents involving wild animals.
Commuters have virtually been terrified by numerous sighting of tigers and leopards in the area. Apart from tigers and leopards, there have been numerous sightings of elephant and wild pigs along many roads in Wayanad district. Pulpally-Bathery route has become a nightmare for travellers as many wild animals have been spotted along the route.
Many accidents have been reported here as wild animals often jump before the vehicles leaving the drivers clueless.
Wild buffaloes have been a major cause of accidents in Pukalamalam area. Wild buffaloes came before several vehicles in the area the last day.
Bushes worsen problem
Recently a black panther was run over by a car at Pukalamalam. The youth who was driving the car told forest officials that he did not notice the panther as both the sides of the road were covered by shrubs.
In fact, the youth came to know of the accident only after he was taken into custody by the forest officials. Forest officials have taken steps to restrict the speed of vehicles along this path. However, the residents of the area are of the view that the authorities should have taken an initiative to remove the bushes along the roadside.
To protect wild animals from vehicle hits, bushes that are around 10 to 20 metres from the roads have been cleared in wildlife parks.
The sighting of wild animals is common along the stretch from Erulam to Pukalamalam and from Cethalayalam to Kuppadi. This route passes through the wild sanctuary. During heavy mist, commuters fail to recognise wild animals even when they come very close to their vehicles.
The people of the area blame apathy of forest officials in clearing the bushes on the roadside.
They are more interested in enforcing traffic ban along roads near the forest or registering cases against drivers who are involved in accidents causing harm to wild animals, they claimed.
Paucity of funds is likely delaying the clearing of bushes. In summer, bushes often catch fire.
The forest officials have also failed to create a fire line along the edge of the forest, the residents added.