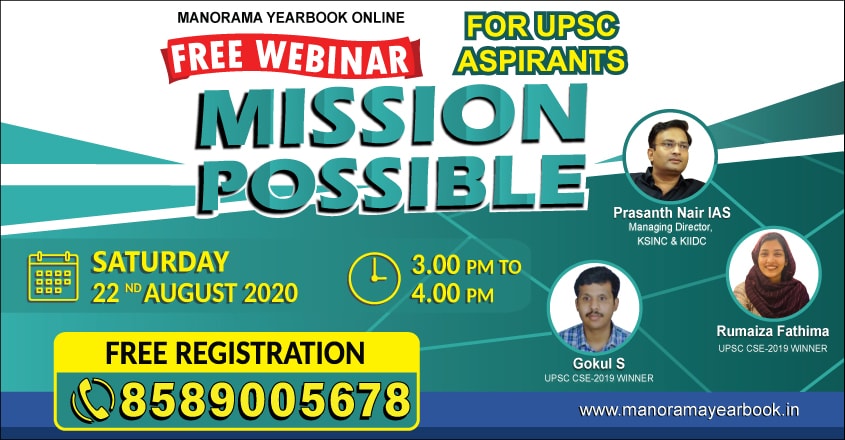 "With focus, determination, and conviction, anything is possible, the least of which is the Civil Services examination. If you are curious by nature and practical in disposition, this exam is there for your taking" says Gokul S, a PhD scholar with total vision impairment who cleared the UPSC Civil Services Examination 2019 in his first attempt. A researcher at the Institute of English, University of Kerala, he cleared the exam with an all India rank of 804.
Gokul will be one of the panellists for 'Mission Possible', a unique interactive programme hosted by Manorama Yearbook Online in association with iLearn IAS Academy for Civil Services aspirants on August 22 at 3 pm.
The other panellists include Prasanth Nair IAS - Managing Director of Kerala Shipping and Inland Navigation Corporation (KSINC) and Kerala Irrigation Infrastructure Development Corporation (KIIDC)- and Rumaiza Fathima, who cleared the UPSC Civil Services Examination 2019 with an all India rank of 185 in her first attempt.
The session is eleventh in the series of free webinars hosted by Manorama Yearbook Online to help aspirants in their preparation for the Civil Services Examination.
For free registration, visit: https://www.digitalconferences.in/missionpossible-webinar or dial 8589005678
Manorama Yearbook Online is a platform exclusively for UPSC Civil Services aspirants. The content includes over 50 mock tests, daily current affairs, quizzes and videos that help users prepare for exams. The daily updates complement the wealth of information available in the print version of the Yearbooks.
For more details, e-mail us: editorial@manoramayearbook.in