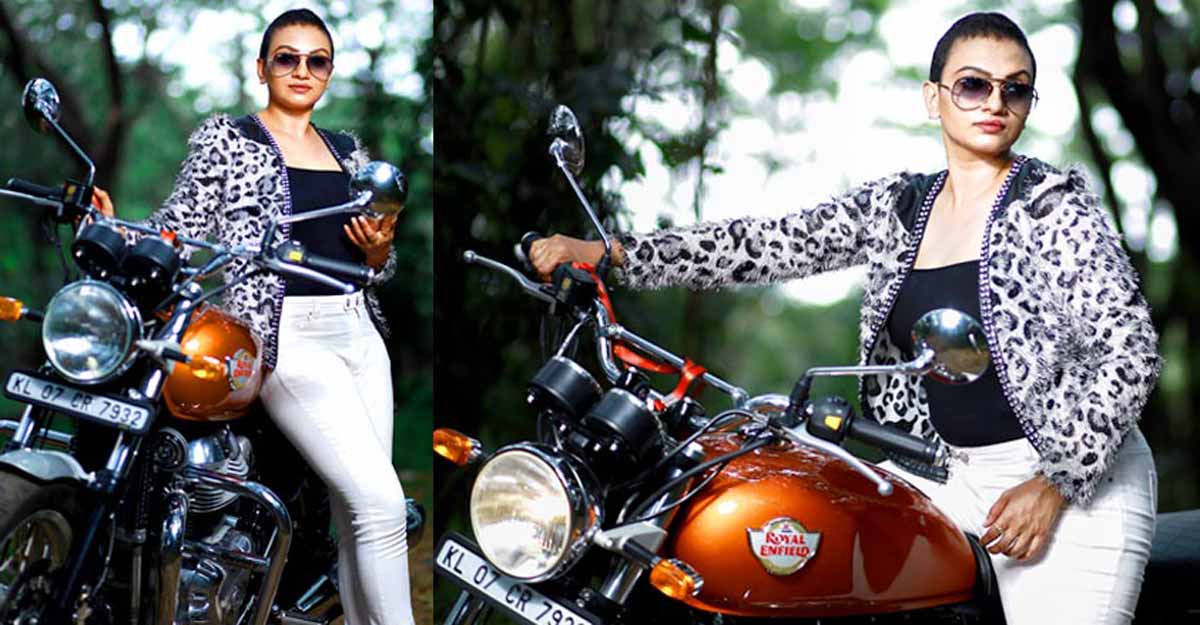 Among the lot of young Malayalam actresses who shake their head in dismay at the very mention of cars and two-wheelers, Krishna Prabha is a welcome relief. Krishna Prabha is the answer to all those who dub automobiles as a men's-only department. The actress not only understands the concept of driving but is a self-confessed addict of the wheels.
Bike crazy
Uber cool photos of Krishna Prabha, sporting a bald look, atop a Royal Enfield Interceptor had made waves on the internet. Krishna Prabha calls them testimonials of her love for bikes.
She didn't merely sit on the interceptor for a photo shoot. She loves to ride a bullet, while Sport Utility Vehicles (SUV) are her all-time favourite.
Royal Enfield Interceptor had created waves on its arrival at the Indian bike market. The Interceptor that hit the roads with a classic look and 650-cc engine was an instant star. The affordable rates made it all the more desirable.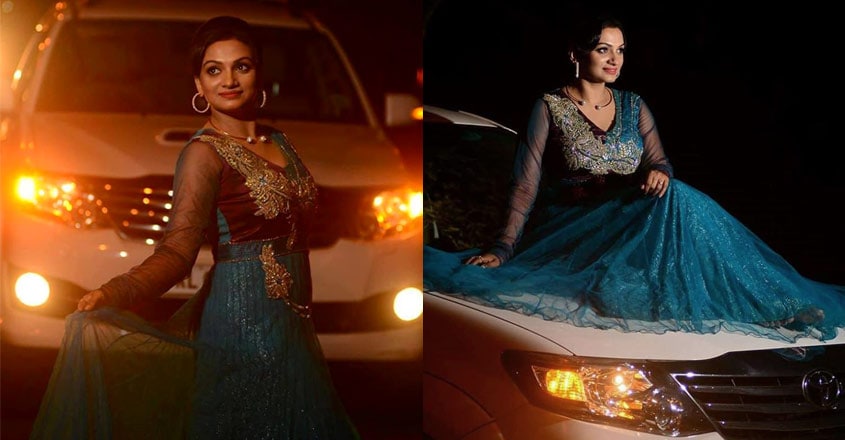 Krishan Prabha too agrees that Interceptor is certainly alluring. "I have still not been able to get hold of my favourite bike. I had used my friend Vishnu's bike for the photo shoot. The classic look and the ease to ride are all attractive features of the bike. This has been the best vehicle from Royal Enfield so far. The bike is sturdy and does not quiver or shake while on the go. Even people who are not tall can easily ride this bike," she pointed out.
Listing out the factors that make the bike irresistible, Krishna Prabha said that two-wheeler came in various colour combinations too.
"My mother does not want me to buy bikes. I had recently got a Honda Brio for short journeys. My mother is asking why do I need a bike on top of that? But my love for Interceptor is not affected by all this. I plan to bring it home this year itself," she said.
The bullet debut
Though Krishna Prabha knew how to ride two-wheelers, her first escapades were on a bullet that was the property of her friend Prahalad.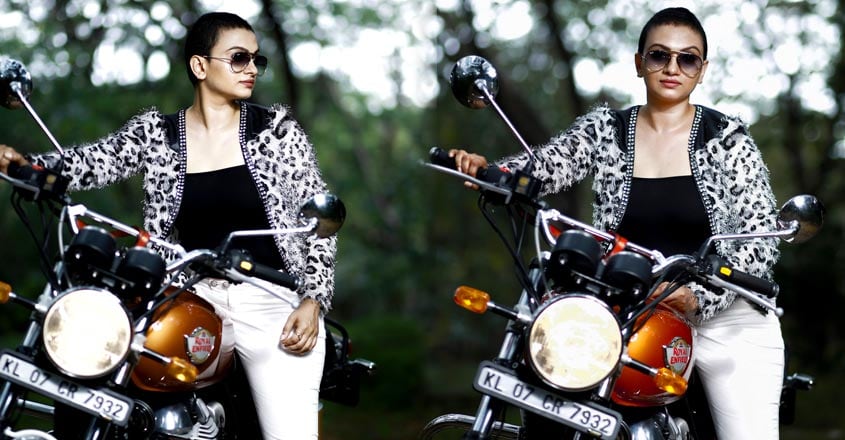 "I don't know when I started liking bikes. But I used to goggle at good bikes. I took pictures with superbikes during my visits to foreign countries. I like Benelli bikes and sports bikes. Though I wanted to own a bike, it never happened. I have an affinity towards bullets. Though it is not a sporty bike, I just love the magnificent bullet from the beginning," she quipped.
Long trip on bike
Krishna Prabha, however, is yet to embark on a long bike trip.
"Though I love to ride bikes, I am yet to go a long trip like the cool dudes. My lengthy journeys are all on the car. Though a trip on a bike is surely on my bucket list. I hope that journey happens sometime," she said.
Good old Fiat
Reminiscing about the first vehicle at home, the actress said, "There was a Fiat at home. But I have only faint memories about it. Then I have used a Maruti 800, Esteem, Scorpio, and Innova. Currently, there is one Fortuner and Honda Brio."
Scorpio gets a like
The actress also said that driving around big cars has helped boost her confidence on taking any vehicle.
"I started loving SUVs after driving a Scorpio. Though I used to drive the Esteem, it was on Scorpio that I finally mastered the art. Not just me, everyone at home loves Scorpio. Though it was considered a bit rough, everyone loved the SUV. As I am used to driving big cars, I am confident of driving any vehicle. After that, I owned the Innova and Fortuner," she pointed out.
The Scooty
But, the little Scooty was Krishna Prabha's first companion on the road.
"Scooty was my first two-wheeler. During my younger days, I used to drive from Thrikkakkara to MG Road in Ernakulam on the Scooty. Then I gave it to one lady who stayed on rent at my house. Though I was a bit saddened then, I am happy to note that she still cares for the two-wheeler," she added.