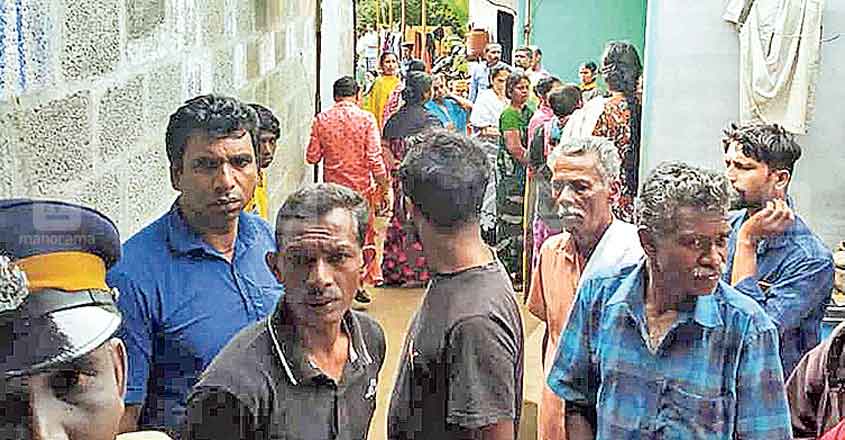 Kumily: Shocking incidents of people getting killed at the hands of close relatives are being reported regularly from Idukki district. The latest crime in this regard took place at Mankavala, Chakkupallom where a Tamil Nadu native killed his wife and appeared at the police station to surrender.
Manikanda Kumar (37), belonging to Puthuppetty, Kambam in Tamil Nadu killed his wife Muthulakshmi (32) and reached the Kumily police station showing no remorse. The police, who were surprised at his behaviour, took Manikanda into custody. Officials later said that the youth had confessed to the crime.
According to local people, Manikanda was into drugs. He had arrived at Mankavala with his wife from Tamil Nadu only three years ago. They lived in a single-room hut attached to the house of one Kamalakkannan.
Muthulakshmi's father had bought an acre of cardamom plantation in his daughter's name. But Manikanda took no interest in managing the farm. Moreover, he did nothing for running the family, but spent his time boozing. It is reported that fed up with her husband's ways, Muthulakshmi had attempted suicide twice. Afterwards, Manikanda stopped drinking but started using drugs and ganja, according to local people.
On the morning of her death, Muthulakshmi was seen handing over the garbage in the house to waste collectors. She was killed one hour later. The children had gone to a relative's house and nobody except the couple was present in the house during the incident.
Manikanda had reportedly demanded that Muthulakshmi's cardamom plantation be transferred to his name but she refused. This could be the provocation for the crime, said the police. However, according to relatives, Manikanda had raised no such demand.
Other murders
As many as 10 murder cases have been reported from Idukki this year so far. One month ago, Subha (35) belonging to Mission Vayal in Marayur was hacked to death by her husband Vedamuthu (50).
August was a cruel month for the district with three killings being reported. The accused in two of the cases had killed themselves. Kunnumpurath Shaji (51) of School City had committed suicide after killing his wife Mini (45). On August 12, Koottungal Shibu (49) belonging to Pallathunad in Ernakulam was fatally attacked on the head with an iron hammer by his former father-in-law and mother-in-law. Kaippallil Sivan and his wife Jagadamma of Marar City in Mammattikkanam, whose daughter had been married to Shibu, were arrested in the case.
In yet another incident, a young woman was strangled by her husband and mother-in-law, who also took their own lives. The scene of the crime was a lodge in Thekkady. The victims were Jeeva (39) of Kanchipuram in Tamil Nadu, her husband Pramod (40), hailing from Perungazha in Thiruvananthapuram district and his mother Sobhana (60), wife of Prakasan.