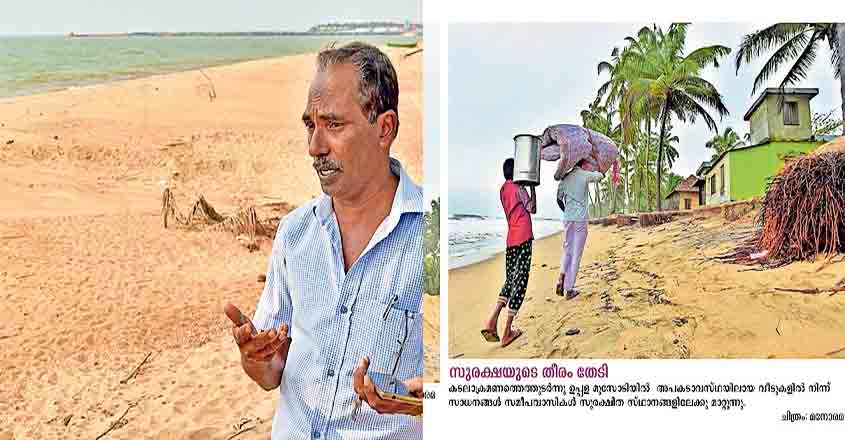 Uppala: It was a bolt from the blue waters for Mohammed as the sea gobbled up his house due to alleged laxity on the part of the Kerala Government while building a fishing habour here in Kerala's northern district of Kasaragod.
Mohammed had built his house on 64 cents of land at Musodi beach with his lifesavings after toiling hard in the Middle East for close to 25 years. But the sea waters slowly eroded his house and land in the past 4 years.
Unfortunately, the state government has not compensated Mohammed for his loss despite the fact that the house was built, after getting requisite approvals, supposedly in a safe place close to 500 away from the shoreline. Now, Mohammed is in a quandary as to whom to approach for a solatium and is staying with his wife and two grown up daughters in a rented house.
Ten houses, including that of Mohammed, were washed away, in the region. Mohammed, belonging to a poverty-stricken family, constructed the house eight years ago with the money he earned as a driver in Saudi Arabia. The houses were washed away by the sea as the water flow was obstructed and waves got stronger and made inroads into land following the construction of a stone wall in the sea as part of putting in place a fishing harbour in the region.
While sea water has entered 600m of land north of the spot where Mohammed's house stood, the shoreline has receded on the southern side. Mohammed was forced to return to his home town from Saudi Arabia after his family lost the house and land 2 years ago.
"There could have been no loss of property if a sea wall had been constructed before the work on fishing harbor had begun," said Mohammed, who is currently staying in a rented house at Manjeerpally near here. Only 4 coconut trees out of 60 are remaining on the land owned by him after the sea erosion.
Though the state government had promised the high court to pay a solatium of Rs 10 lakh to him after he approached the court for a compensation for the loss incurred, Mohammed is yet to get damages.