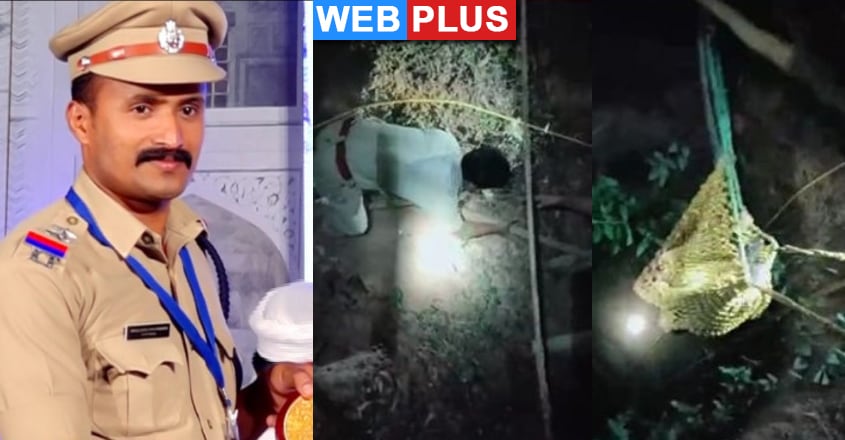 Tirur: A cop's earlier stint with the Kerala Fire and Rescue Services came in handy as he made a daring rescue of a woman who had fell into a well at night during a temple festival at Vyrancode in Malappuram district. The woman herself had called her relatives and informed them of her plight as she plunged down while speaking on the mobile phone. Soon the cop on duty at the venue rushed to the spot and finally brought her out in a net.
Jaleel Karuthedathu, the Sub-Inspector at the Tirur police station, has become a local celebrity after the rescue.
The incident took place during the popular festival at a temple at Vyrancode. The woman had no idea about the presence of the well. She was taken to hospital as she had minor injuries.
Speaking to 'Manorama News', the police officer said all roads in the area were blocked as there was a big crowd to witness the 'vela' festival. "I realised that the Fire and Rescue Service vehicle may be delayed due to this reason and decided to do something for the woman on my own," he said.
"The first thing I did was to garner some rope and shifted onlookers away from the well. The water was chest-high and the woman had submerged till that level. I asked some brave youths to get down into the well so that they could allay her fears," Jaleel narrated.
The woman was taken out in a net that was brought by the Fire and Rescue personnel.
Referring to his role in the rescue, Jaleel said that it was all part of his duty. "Moreover, my experience of having earlier worked with the Fire Force also helped," he added.
Jaleel also blamed people who leave wells open for such mishaps. "The Fire and Rescue Department receives numerous calls for help in this regard. In the Vyrancode incident, the woman was lucky as the water level was low," he said.