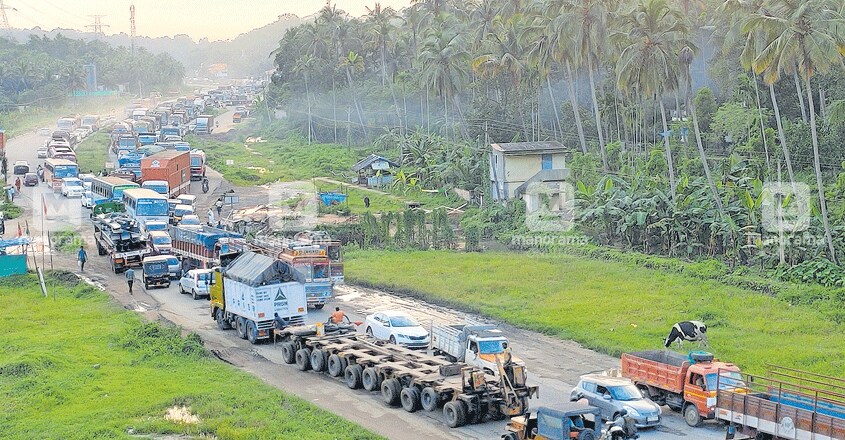 Shornur: The Kuthiran stretch of the national highway, connecting Palakkad and Thrissur towns in Kerala, has been a nightmare for motorists for long. With the perennial traffic logjam here getting worse with each passing day, the motorists are taking alternative routes.
To avoid the Kuthiran area, drivers are nowadays taking a detour from the Palakkad-Kulappully road to enter the Shornur-Perinthalmanna road to eventually reach the state highway in Thrissur through the Cheruthuruthy Chungam locality. The National Transport Authority had suggested, many years ago, to convert this alternative route into a four-lane stretch.
With perpetual traffic blocks on the Kuthiran stretch, many commuters are travelling through the Shornur route to save precious time. But there is traffic congestion on this route too as heavy vehicles, including trucks, are passing through this road quite frequently.
However, frequent pipe bursts are reported from near Kochupalam just before reaching Cheurthuruthy on the alternate road leading to the Thrissur district border.
Safety alerts are occasionally issued over this.
Recently it was reported that the hilly Kuthiran area along the borders of Palakkad and Thrissur districts is a deathtrap with several fatal accidents being reported from here in the last few years. The delay in the ongoing work to build a long tunnel under the forested hills in Kuthiran is mostly blamed for the traffic mess.
Another route

Instead of taking the Shornur-Perinthalmanna route, vehicles coming from the Palakkad side may proceed through the Mayanur bridge to skip Shornur totally. These vehicles can then enter the Shornur-Thrissur route after passing through Kayampuvam and Vazhakkottu areas.

There will be less traffic on the Shornur route if traffic is diverted through this route.