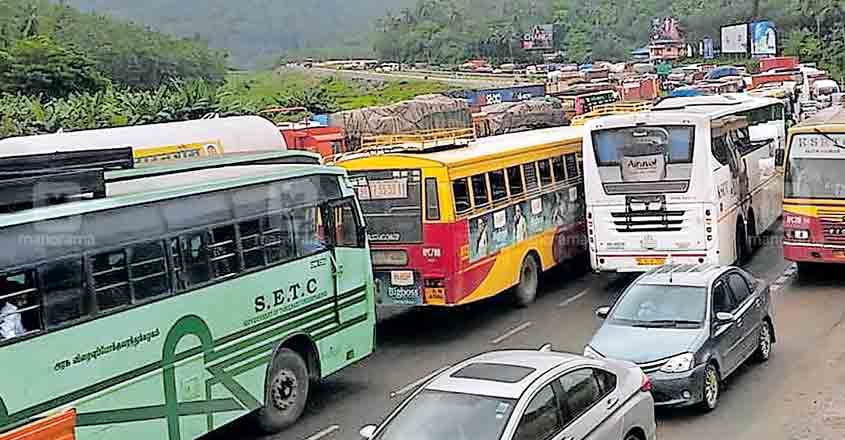 Vadakkanchery: The Kuthiran stretch along the National Highway here is facing huge traffic snarls due to the ongoing road-tarring works. Vehicles are being allowed to proceed in only one direction at a time. Authorities have requested people to take detours as much as possible.
Though restrictions were imposed on heavy-duty vehicles, including container lorries,  there is little respite from the traffic snarls due to construction works.
The Kuthiran stretch of the highway connects Thrissur and Palakkad towns of Kerala. 
Alternative routes

Those coming from Palakkad can go to Shoranur via Ottapalam and head to Thrissur by crossing Kulappully.

Also, they can turn from Ottapalam Road to Lakkidi and pass through Thiruvilwamala-Pazhayannur-Chelakara-Vazhakode to reach Thrissur.
Another route is to travel through Alathur-Kavassery-Pazhayannur-Chelakara to reach Vazhacode and head to Thrissur.
Meanwhile, demands have been raised to rectify the damaged portions of the six-lane road. Huge craters have developed along the road at Panniyankara, Chuvattupadam, Shankaramkannanthode and Vaniyambara. The National Highway Authority of India and a construction company had made a contract on August 24, 2009, to complete the works in 30 months, ie, by 2012. But even in 2019, the works remain only half done.
As reported earlier as many as 223 lives have been lost in road accidents in this area over the last 10 years.