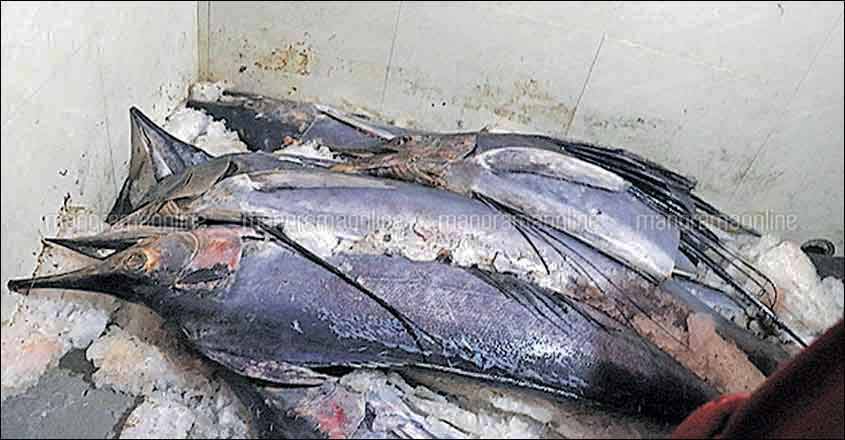 Kadakkal: Trawling ban period is that part of the year when fish prices skyrocket and vendors engage in fishy ways to make profits through sale of chemically preserved fish.
This season too, the public continued to be deceived by fishmongers who sell rotten fish at a high price. Such cases of selling stale fish are rampant in the markets in the eastern belt of the state such as Kadakkal which lies far off from the sea coast.
The buyers get a whiff of the stale product only after they reach home. They develop itching on hands while cleaning the fish and vomiting sensation after consuming the spoiled dish. Recently, a few people who bought 'paara' (Malabar trevally) from Kadakkal were taken for a ride and had to bury them after finding them spoilt.
Fish such as trevally, tuna, sardine, ribbon fish, mackerel, Indian scad, anchovy and shrimps were found in a decomposed state. However, the vendors, who mix up the chemically-preserved varieties with the fresh ones are giving a tough time to the customers. People often find it hard to distinguish those laced in chemicals such as formalin and ammonia from the fresh ones. 
Vendors who sell fish in vehicles since morning take the unsold fish to the market in the evening. Though the Food Safety and Health departments, and panchayat officials were alerted about the rampant sale of rotten fish, no action has been taken so far.
An office of the Food Safety Department is functioning at Nilamel. However, when the officials were pointed out about the malpractice, the officials have excused themselves from doing the job citing shortage of hands and vehicle, it is alleged.