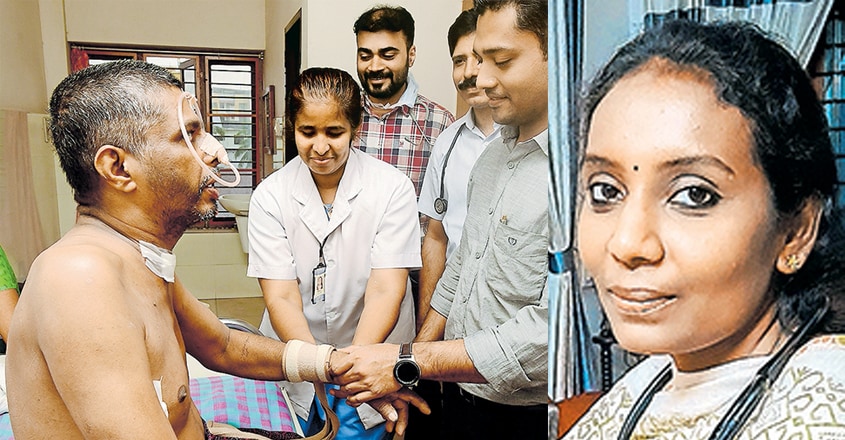 Thrissur: A 48-year-old man had a miraculous escape after being hit by a KSRTC bus, thanks to valiant efforts of a passenger.
The life of Joy, a native of Avinissery in Thrissur, was saved as Dr T S Soumya immediately administered cardiopulmonary resuscitation (CPR). And she continued her life-saving effort even as onlookers proclaimed that Joy would not make it. Soumya gave CPR for 15 minutes till the victim reached the hospital. That incident happened 38 days ago. Joy, who has recovered from the accident, would leave the hospital in the coming days.
Joy was hit by the Mala-Thrissur fast passenger KSRTC bus at Ollur on January 29.
He was immediately shifted into another vehicle and taken to the Elite hospital at Kurkancheri. All this while, Soumya continued to administer the CPR, paying little heed to statements that her efforts would go in vain. When her hands started aching, she taught the KSRTC driver, who was sitting next to her, on how to administer the CPR.
As soon as they reached the hospital, senior doctors took over and an emergency surgery was conducted.
Joy had suffered several fractures on his skull and his ribcage was also broken. He was unconscious for two weeks. The surgery and the continuous treatment helped save Joy's life.
Recently, a passenger collapsed and died at a bus station in Thiruvananthapuram, despite being given the CPR. Though he was taken to the hospital, the ambulance was caught in traffic snarls on Wednesday.