Thiruvathira is a unique festival celebrating feminine grace. The festival falls on the Thiruvathira day in the month of Dhanu in Malayalam calendar. It is believed to be the birthday of Lord Shiva. Women observe a 'vratham' (vrat) throughout the day, ending it with a specially made no-rice meal and dancing to the tunes of Thiruvathira songs for a long and fruitful marital life and the better health of their spouses. This year, the festival falls on January 5 and 6.
During the day, women abstain from consuming rice and often opt for dishes made of tubers and lentils. The months of December and January are the time when tubers are mostly harvested. These food items are excellent to boost immunity during the winter. Thiruvathira puzhukku is an iconic dish that is specially prepared on the auspicious day of Thiruvathira. Purple yam, elephant foot yam, colocasia and Chinese potato (koorkka) are the main ingredients in a traditional puzhukku. These are storehouses of carbohydrates and fibres. The high amount of carbohydrates makes digestion easier. Meanwhile, the fibres regulate the glucose in the blood to prevent diabetes. Elephant foot yam is excellent to ease the difficulties caused by haemorrhoids. Colocasia could be included in the diet to keep away exhaustion and make you energetic. These tubers can reduce the cholesterol in blood and ensure heart health.
• Here is how to make Thiruvathira puzhukku easily at home. This is an excellent dish to be enjoyed with buck wheat porridge. Ingredients
20 gm cowpeas
20 gm horse gram
20 gm Bengal gram
20 gm mung beans
100 gm purple yam
50 gm elephant foot yam
100 gm colocasia
100 gm tapioca
50 gm Chinese potato
150 gm plantain
50 gm sweet potato
1 ½ cups grated coconut
3 green chilies
A pinch of cumin
¼ tsp turmeric powder
Salt as required
2 tsp coconut oil
Curry leaves
Preparation
Cook the tubers, pulses and plantain with some salt and turmeric
Grind coconut with cumin and green chilies
Add this paste into the cooked tubers
Mix well
Drizzle some fresh coconut oil
Add a palmful of curry leaves too
Close the lid and keep the dish aside for at least 15 minutes
Give everything a good mix before serving.
• Ettangadi
Offering the 'ettangadi' is one of the most important rituals of the 'vratham' which is observed during the Malayalam month of Dhanu. Local and fresh produce like colocasia, yam, lesser yam, Chinese potato, purple yam, raw plantain, big bananas, brown beans and jaggery are the main ingredients in 'ettangadi.'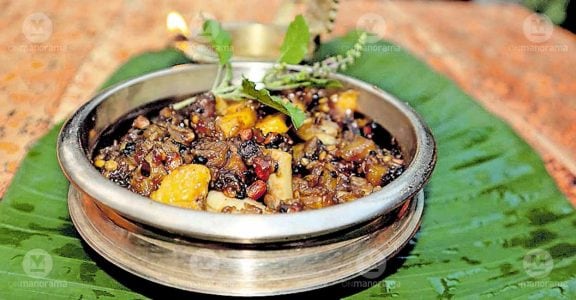 In the olden days, young women who observed the 'vratham' (fasting and observance), to please Lord Shiva, used to roast the root vegetables in the pit fire made at the courtyards of their homes. Now, only the lesser yam is roasted like this. All the other vegetables are cooked before mixing it into the delicious and religiously significant 'ettangadi.' Here is how to make it:
Ingredients
750 gm of chopped purple yam, lesser yam, Chinese potato, sweet potato, colocasia, big banana (roasted over charcoal)
600 gm jaggery
100 gm brown beans (cooked)
20 gm sesame (roasted)
Flesh of tender coconut
Coconut shards
2 tbsp ghee
Preparation
Melt the jaggery until thread like consistency
In a vessel add the charcoal-roasted vegetables, melted jaggery, cooked brown beans, roasted sesame, tender coconut, coconut shards and ghee
On a low flame, roast everything well together
• Koova payasam
Koova or arrowroot payasam is a healthy dessert that is enjoyed on the day of Thiruvathira. Check out the recipe here: Ingredients
1/3 cup koovappodi/arrowroot powder
2 cups water
1.5 cup jaggery syrup
2 tsp ghee
¼ cup grated coconut
¼ tsp cardamom powder
Preparation
Mix water and millet powder without any lumps
On low flame, cook this mixture until it thickens a bit
Add jaggery syrup and 1 tsp ghee
When the payasam is cooked well add cardamom powder and the remaining ghee too
Arrow root payasam is ready.