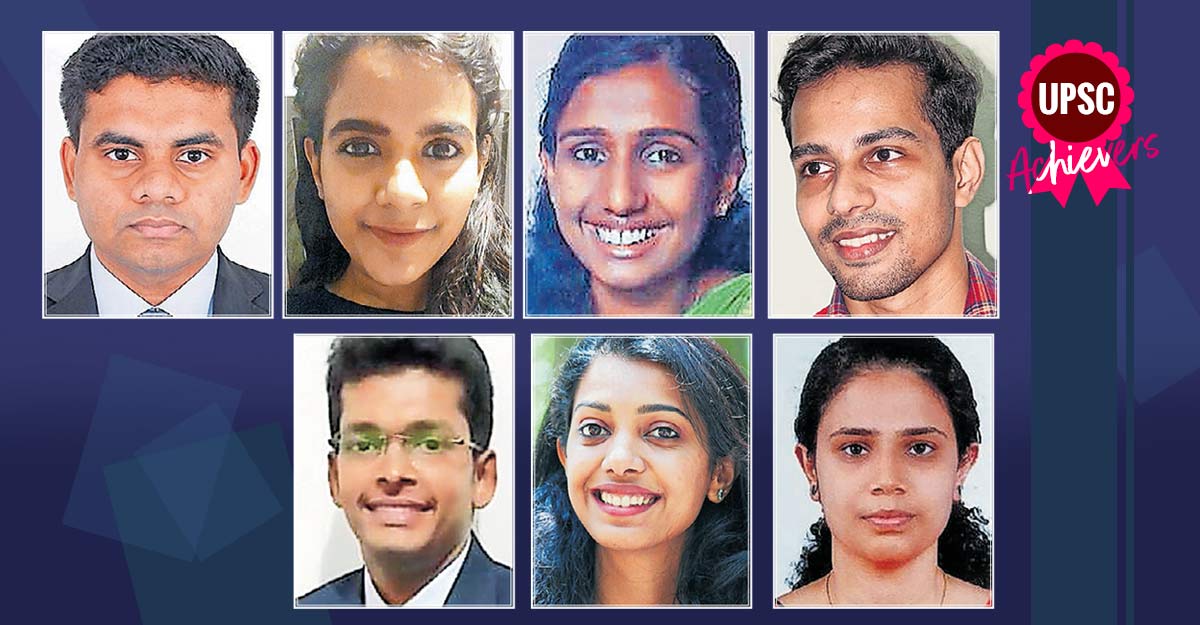 New Delhi/Thiruvananthapuram: Keralite C S Jayadev has secured the fifth rank in the All-India Civil Services Examination (CSE) 2019. The first rank went to Pradeep Singh, an Indian Revenue Services (IRS) probationer, from Sonepat in Haryana. 
Jayadev is a Law graduate from the National Law School, Bengaluru. Jayadev's parents, Thrissur-native Satheesan Warrier and Kottayam-native Roshni, are in the IT sector. 
Keralites secured many enviable slots in the first 100 CSE ranks. Here are some of them:
Dr Aswathy Sreenivas, 40th rank: Aswathy, a medical doctor, completed her studies in 2016 from the Gokulam Medical College. Aswathy, a resident of Kadappakada in Kollam has been with her elder sister Aparna who is also a doctor, in Kottayam. Aswathy's father, P. Sreenivasan, is a retired executive engineer with the Kerala State Electricity Board and mother, Dr. S. Leena, is a scientist with the Central Plantation Crops Research Institute, Kasaragod. 
Safna Nazarudeen, 45th rank: Safna is a resident of Peyad in Thiruvananthapuram. Her father, Haja Nazarudeen, retired as a police sub-inspector and mother, A.N. Ramla, works with the Employment Exchange in Kattakada. Safna stood all-India first in the CBSE Class XII examination too. Safna graduated in Economics with first rank from the Mar Ivanios College, Thiruvananthapuram, in 2017. She secured an A-Plus in all subjects in Class X at the Kendriya Vidyalaya (KV), Special Armed Police Camp, Peroorkada. She completed her Class XII in Humanities with an all-India first rank from KV, Pangode.    
Dr Arun S Nair, 55th rank: Arun is a resident of Sreekaryam in Thiruvananthapuram. His father, Surendran Nair, retired from the Army. Bindu is his mother. Arun has been a topper all through his student years. He secured fourth rank in the medical entrance examination. He graduated from the Thiruvananthapuram Medical College and then started preparing for the civil services. His optional was medical sciences and he secured the 55th rank on his third attempt. 
Nidhin K Biju, 89th rank: Nidhin Biju is the son of Biju Eepan and Suja of Kuttikandam, Kalloopara, Pathanamthitta.
A V Devi Nandana, 92nd rank: Devi Nandan secured the 92nd rank and she is the daughter of K. Anil Kumar, a retired Government Secretariat employee, and P.V. Vijayalakshmi, a former teacher at M.G. College, Thiruvananthapuram.
P P Archana, 99th rank: Archana is a native of Kakkaniserry in Payyannur, Kannur. Her mother P.P. Geetha is a retired teacher. Her father, K.E. Jeevan Rajan, is no more.
10 winners from the State capital
There were 10 CS winners from the state capital, Thiruvananthapuram, alone. Of this, three came in the first 100. They are: Safna Nazarudeen (45th rank), Dr. Arun S. Nair (55), and A.V. Devi Nandana (92nd rank). 
The others
The other meritorious candidates are: 
S Manoj Madhav, 105th rank: Manoj is a resident of Thittamangalam in Vattiurkavu in the capital. His parents are Sreekumaran Nair and Rajani Devi. 
Egna Cleetus, 228th rank: Egna is from Valiathope and is the daughter of Cleetus George and Emelia Cleetus.
S Anoop, 229th rank: Anoop is a resident of Meads Lane, Palayam. His parents are M.C. Shaji and A. Rekha. 
Stefan Simon Tobias, 362nd rank: Stefan is the son of Simkin Tobias and Mini Joseph.
R Prapanch, 606th rank: Prapanch is the son of former Minister R. Raghuchandrabal and Omana. This is Prapanch's second shot at the civil services. After schooling in Thiruvananthapuram, he graduated from Saint Stephen's College, Delhi. He prepared for the civil services in both the cities. 
R Rahul, 803rd rank: Rahul is the son of K. Rajeev and G. Lissy. He is a native of Varkala. 
Glorious win
S Gokul, 804th rank: Gokul is from Thirumala and is the son of G.O. Suresh Kumar and Shobha. Gokul's win is highly notable as he is visually challenged. There was an air of happiness at his house 'Gokulam' in Thirumala in Thiruvanthapuram as his parents were also elated at the stupendous achievement. The family shared sweets with kin to celebrate the win. Gokul was seen enjoying a piece of sweet lovingly given by his mother, Shobha.