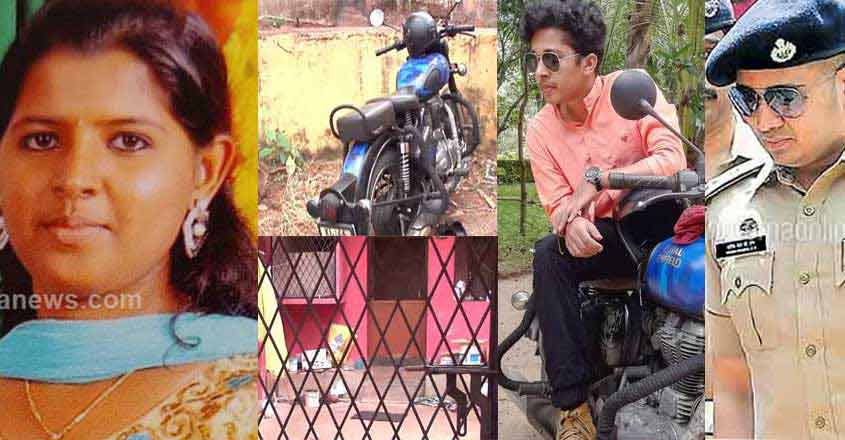 Thrissur: Nidheesh, who set ablaze an engineering college girl student at Chiyyaram in Kerala's Thrissur district, reached her house with two bottles of petrol and one bottle of poison. Petrol was for taking Neethu's life and poison for his own. It all went as planned until Neethu was set ablaze. Her relatives caught and tied Nidheesh up, botching up the plan to consume poison.
Nidheesh had made plans upfront as he approached Neethu's house in Chiyyaram, say police. He reached the house around 4:30am and waited for 2 hours for kitchen doors to open. His bike was parked by the road away from home and slippers left beneath it. His carried petrol bottles, a pair of gloves and a new expensive knife in bag.
He chose to go through Neethu's uncle Vasudevan's property to reach the rear end of her house. He entered the kitchen around 6:30am and stabbed Neethu several times, including on neck, inflicting deep wounds. The stabs, however, did not lead to her death. He poured petrol and lit her on fire after Neethu fell down.
Relatives and neighbours rushed to the house and tied up Nidheesh until police arrived. Neethu was alive until she was taken to the car, they said. A team lead by Commissioner G H Yatish Chandra and SP S Shamsuddin started the probe.
Petrol taken from bike?
The police are investigating how Nidheesh got two bottles of petrol. Pumps had stopped selling fuel in bottles as per police order following rising cases of murders using petrol. Nidheesh might have taken it from his bike, the police suspect.
The reason for setting ablaze Neethu was a love affair turned sore.
Neighbours said they saw a bike outside the house and inquired about the owner. Suddenly they heard screams from the house and rushed inside only to see the burning body of Neethu.
According to family members, Neethu and Nidheesh were in an affair for the past three years and the family members of both were in the know of things. Apparently, Nidheesh was insisting on marriage and Neethu was not ready for it. In the meantime, Neethu started meeting another friend which infuriated Nidheesh.
Neethu's mother had committed suicide years ago and her father had abandoned her. All this had affected Neethu's life but she wanted to complete her studies and find a good job. Neethu was living with her grandmother and maternal uncle.
Nidheesh had completed his MBA and was working with a private company in Kochi.