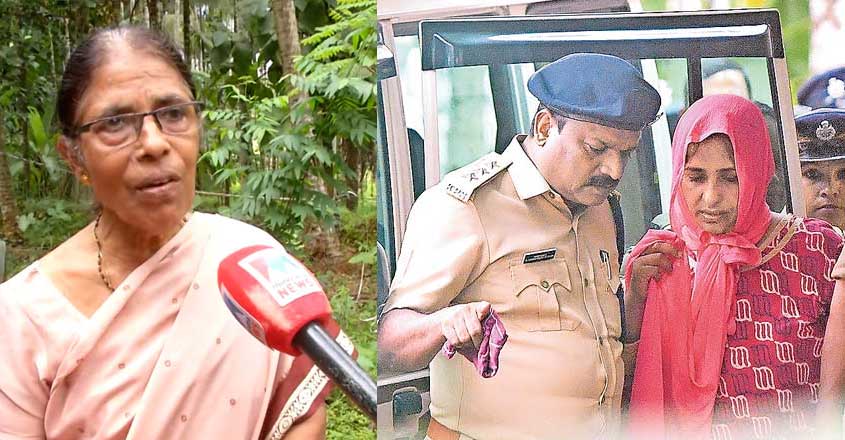 Kozhikode: Refuting the statement of Jolly Joseph, Annamma, the wife of Mathew Manjadiyil, one among the six victims in the Koodathayi murder has said that he and Jolly never consumed liquor together.
Jolly, the prime accused in the serial murder case in Kozhikode district of Kerala, had reportedly told police that she had mixed cyanide in alcohol to kill Mathew, Jolly's first mother-in-law's brother.
Jolly apparently told police that both of them had drinks together even two days before the murder.
Jolly made the revelations when she was brought to the Ponnamattom house – where three of her victims had been found dead – for collecting evidences on Friday.
Speaking to Manorama News, Mathew's wife Annamma said that she did not suspect foul play behind her husband's death as he was a heart patient. "I have no idea why Mathew was killed," she added.
Annamma also said that Mathew had acted as a mediator in the property dispute in the family.
In another development, blood samples of the members of Ponnamattom family were collected to identify the remains of those victims exhumed recently. Those who gave blood samples include the Roy's children and his siblings Rojo and Renji.
Jolly's husband Roy and his parents Tom Thomas and Annamma, were also among those killed. Sily and Alphine, the first wife and daughter of Jolly's current husband Shaju were the others allegedly killed by Jolly.
The blood samples were taken at the Forensic Science Department at Medical College, Kozhikode in the presence of the investigating officers.
Facilities to conduct the DNA test are available in Kannur and Thiruvananthapuram but in case more advanced techniques are to be employed, the samples would be sent to labs outside Kerala.
Meanwhile, the interrogation of Jolly continued at District Crime Branch office in Payyoli.