A bus waiting shed in Malayattoor in Ernakulam district has become a talking point in Kerala.
At the outset, there is nothing fancy about the waiting area that's situated not far from the famous Christian shrine of St Thomas.
Get a closer look and it seems decent; ample seating space for at least eight adults, a mobile charging point and a water tap.
But that's not all. The most impressive aspect, the one that's got the land talking, is written in red on top: Cost of construction 1,22,700.
That figure, according to the multitude of social media users, is eyeball-popping because almost all bus waiting sheds constructed by local bodies throughout Kerala, even those smaller than the one in Malayattoor, would cost 5-6 times or even ten times more.
Even though the 'Janakeeya Bus Waiting Area' at Malayattoor stands over the land of the Malayattoor-Neeleswaram Grama Panchayat, not a penny from the local body was used for its construction.
By the people, for the people
Instead, crowd-funding made it possible. On a side of the waiting area is a list, of the contributors. It has 45 names and their contributions; no fewer than Rs 500 and not greater than Rs 8,000. In total: Rs 1,02,250.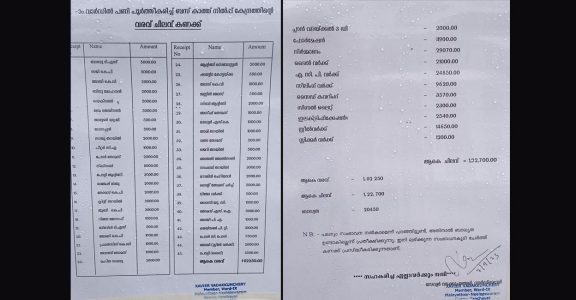 On a second list is the detailed expenses, which says there is a shortage of Rs 20,450. "But many have agreed to contribute so there won't be any deficit." The note is signed and stamped by Xavier Vadakkumchery, the man behind the mission.
Vadakkumchery, who is a former president of the panchayat, is now a member of Ward 9, where the waiting shed is built. He says all the contributors are from his ward.
Cutting out the contractor
"Some time back there was an irrigation pipe burst and when I approached the contractors to fix it, they pitched me an expense of Rs 1,20,000. It just didn't seem right. So we did it ourselves and the expense was Rs 12,000," Vadakkumchery told Onmanorama.
That incident seemingly inspired him to take up the bigger project, the waiting shed.
Vadakkumchery says they crunched the numbers, took out the PWD contractors' estimate and the other miscellaneous expenses and came to an affordable number, a little over a lakh.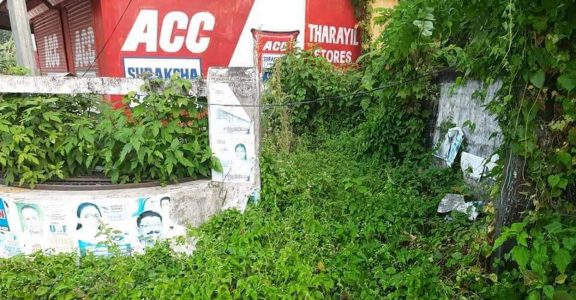 He says his idea of doing crowd-funding among his ward members had the blessing of the panchayat leadership.
"Everything we used is high quality," said Vadakkumchery. A part of the waiting area is built over a panchayat well, half of which was sealed off to make the ground level.
Vadakkumchery says there was a high mast light near the well and that supply is used to light up the waiting area. The water connection is again from a panchayat tap that was on site. "We will be fixing a purifier soon so that people can have drinking water too," Vadakkumchery said.