Anikha Surendran is a skilled actor who has made an impression on moviegoers in south India. She entered the filmdom as a child artist in Malayalam flick 'Kadha Thudarunu' in 2010 and within a short span of time she caught the imagination of the movie buffs with her exemplary histrionic skills.
The actor has shrugged off the child artist tag and is presently busy working in Malayalam and Tamil films. In a bid to keep her fans updated, Anikha, who hails from Manjeri in Malappuram district in Kerala, has given a snapshot of her visit to the picturesque Kumbalangi by posting some engrossing pictures on social media. In one of the snaps, she is seen gliding through the placid lake in a small country boat.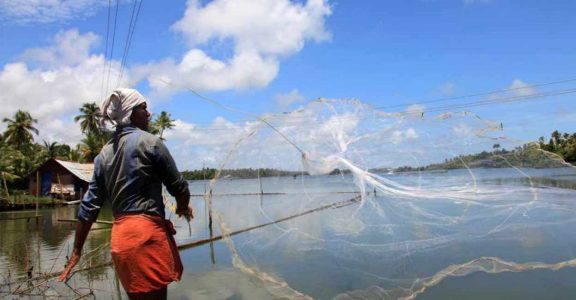 Not only celebrities but also travellers from around the world come to the scenic Kumbalangi in Ernakulam district to enjoy the pristine beauty of nature. Apart from being blessed with nature's bounty, Kumbalangi is also known for churning out some mouth-watering dishes.
It is indeed noteworthy that Kumbalangi is the first eco-friendly tourist village in India. Nearly one lakh people are living on this island that is spread across 16 sq km. Besides agriculture, the natives of Kumbalangi depend on fishing for a living, and the iconic Chinese fishing nets are ubiquitous in the region. As per rough estimates, there are close to 100 Chinese fishing nets in Kumbalangi and they are of great interest for tourists visiting this quaint village. The hamlet is dotted with many homestays that give an opportunity to the backpackers to enjoy the charm of the tranquil lake and munch the gastronomical delights of the region. One could taste delicacies made of fresh fish catch from the backwaters surrounding Kumbalangi.
The Kerala Government picked Kumbalangi as the model tourist village in 2003. The government has chalked out Kumbalangi Integrated Tourism Village project for the development of fishing and tourism activities in the small village. Besides providing a unique experience to the travellers, the initiative aims to give a boost to the local economy and a better livelihood to the local residents through tourism.
As part of the project, many houses with ample facilities were converted into homestays to the glee of the visitors. While staying in such homestays, the tourists will have the opportunity to dine with the hosts, walk through the hamlet, get a feel of the local fishing techniques, indulge in fishing, go on a boating spree and visit the farms.