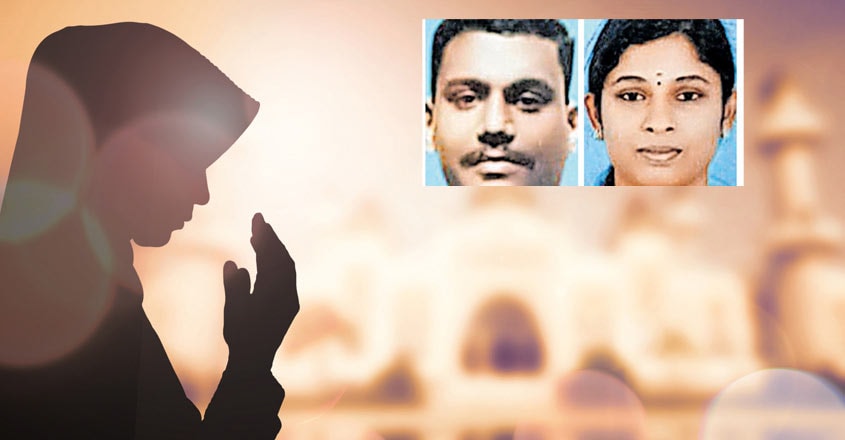 Kayamkulam: Even as social and interpersonal ties are increasingly getting influenced by religious biases across the country, inter-faith marriages do happen without any rancour, especially in Kerala.
In a heartening gesture, the wedding of a Hindu couple would be hosted by the Cheravally Muslim Jamaath Committee at Kayamkulam in Kerala's Alappuzha district later this month.
The wedding between Anju, daughter of Cheravally natives Bindu and Ashokan, and Sharath, son of Krishnapuram natives Shashidharan and Mini, would be held at the premises of the Cheravally Mosque on January 19.
The couple would tie the knot between 11:30am and 12:30pm.
Fraught with financial difficulties, Bindu was struggling to find money to conduct her daughter Anju's wedding. Her husband had died two years ago and she lived at a rented accommodation with her three children.
Her neighbour Nujumudeen Alummoottil, a Jamaath secretary, asked her to seek the help of the Jamaath Committee. Bindu did not worry about religious differences, while seeking aid. Nor did Cheravally Muslim Jamaath Committee had any apprehensions.
One of the members offered to bear the wedding expenses. Believers, who came for the Friday prayers last week, were informed about this and they too lent their support.
The wedding invitation card prepared by the Jamaath Committee is being circulated on social media as a symbol of religious harmony.
Anju and her sister Amritanjali had to abandon their studies after Plus-Two due to financial difficulties. Anand is their younger sibling.