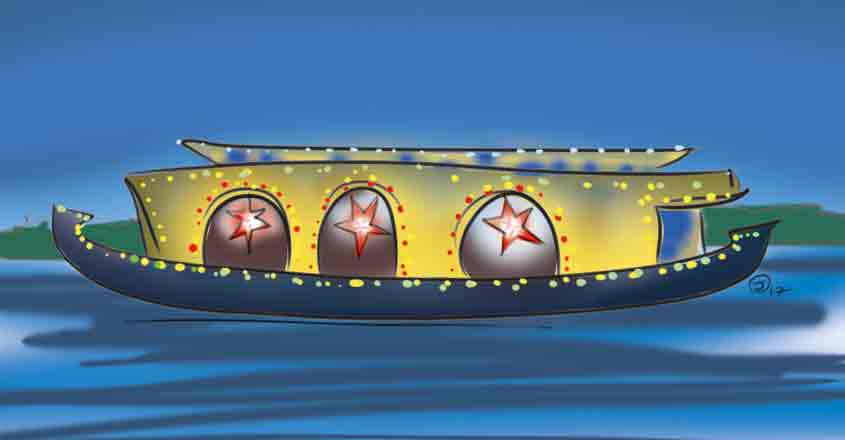 Kochi: Posing a security threat to Kerala, many vessels and boats are operating illegally on inland waterways of the state. The majority of employees working even on registered vessels don't have the requisite qualification. It is learnt that there isn't enough qualified workers onboard large barges that transport hazardous chemicals through the high-security Kochi port zone.
The officials attached with the Department of Ports vouch for the fact that many vessels are being operated without mandatory staff as prescribed in the Kerala Inland Vessels Rules, 2010. Similar situations prevail in various houseboats that carry thousands of tourists through various waterbodies in the state.
"Though we have a clear idea about the lawbreakers, lack of staff and boats are standing in the way of taking action against them," the officials said.
The service of an inland master is mandatory on barges transporting hazardous chemicals such as ammonia and Sulphur, and petroleum-based products from the Kochi port, but these vessels are being operated with the help of lesser qualified workers such as serang and lascars.
The experts opined that non-availability of inland masters, who have received adequate training on how to avoid accidents, and face emergencies, if any, can only invite danger. There are also allegations that people working on the vessels hail from other states and they have dubious qualification certificates. The employers recruit these migrant workers who are willing to work for a lesser salary, and those trained to become a master are shown the door.
As many as 2,200 vessels are registered in Alappuzha, Kottayam, Idukki, Ernakulam and Thrissur districts. Out of these, 1,500 vessels were registered in Alappuzha district alone. Besides, there are many unregistered vessels, highest number in Alappuzha district, operating at tourist centers in Kottayam, Idukki, Ernakulam and Thrissur districts. As officials realized that the Vembanad Lake in Alappuzha district was overflowing with vessels, they stopped registering new boats after 2013 but this resulted in mushrooming of illegal vessels. A meeting under the aegis of chief minister would take a call on issuing new registration to vessels in the immediate future, said the officials.
The Department of Ports officials said that there were some limitations in conducting periodic inspections. Ironically, the Kodungallur port office, which oversees Ernakulam, Idukki and Thrissur districts, doesn't own a boat. The office, which doesn't have enough employees too, hires a boat to carry out periodic checks in regions coming under its jurisdiction. Even if the offenders are nabbed, they are just slapped a fine as the office doesn't have facilities to impound erring vessels. Though stop memos are issued to vessels without registration, they will start operating after a lull.
Houseboats infringe law
The Kerala Inland Vessels Rules has stipulated the qualification of workers and requisite number of workers needed according to brake horse power (BHP) and the passenger carrying capacity of the vessel. The vessels that don't satisfy these conditions are not allowed to operate.
As per the rules, a houseboat should have 5 employees including a second class master, one serang, one driver and two lascars. But during inspections, most of the houseboats will have only two or three workers, and one of them will be a chef. The fine is commensurate to the shortage of workers and will be around only Rs 500. The houseboat owners will pay this meagre fine and continue to break law.