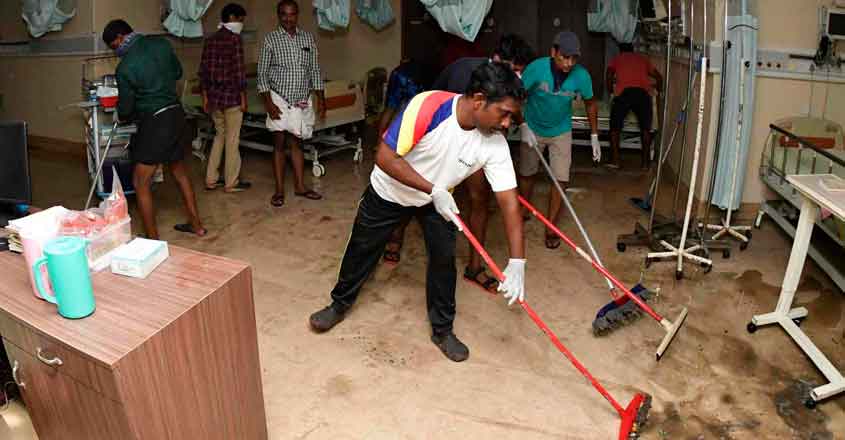 Kochi: It was a proud moment for Kerala, when a bunch of youths set aside their political affiliations, and joined hands for the common goal of fighting COVID-19.
The youngsters rose to the occasion after the Ernakulam Collector said that the PVS Hospital, which had been shut for a year, would be converted to a Corona Care Home.
Activists of the Youth Congress, the DYFI and AIYF then worked together to clean up PVS Hospital at Kaloor in Ernakulam.
The 14-storey building was scrubbed clean at the end of a four-hour effort from 10am to 2pm.
All the cleaning equipment were available at the hospital itself, making the process easier. The youth also left with the word that they can be summoned for any help in the future.
The officials plan to have the hospital functioning from Monday onwards. Most of the necessary equipment needed for the coronavirus care centre are available at the hospital itself.
However, there is still work to be done. The centralised air-conditioning system, generators, and other electric equipment have been rendered defunct.
The officers have to get all the chores done and have the hospital up and functioning on war-footing.
As per the instructions of the Ernakulam Collector S Suhas, Sub-Collector Snehil Kumar Singh, who is the incident commander, issued the order to take over the hospital.
Kannayannur tehsildar Beena P Anand, tehsildar Muhammed Sabir, and general hospital superintendent Dr M Haneesh have been tasked with the coordination.
There are also suggestions to make use of other defunct hospitals, hostels, auditoriums and buildings in various parts of the district for such purposes.
After the lockdown was announced, several medical equipment technicians returned to their native places. Authorities plan to locate these people and urge them to return to work.
Offer to help
Meanwhile, several people have offered their services during this hour of crisis on the Collector's Facebook page.
Drivers, electricians, pharmacists, contractors, and nurses, among others have come forward to help. Several people shared their phone numbers on the Facebook page itself. Authorities would make use of their services.