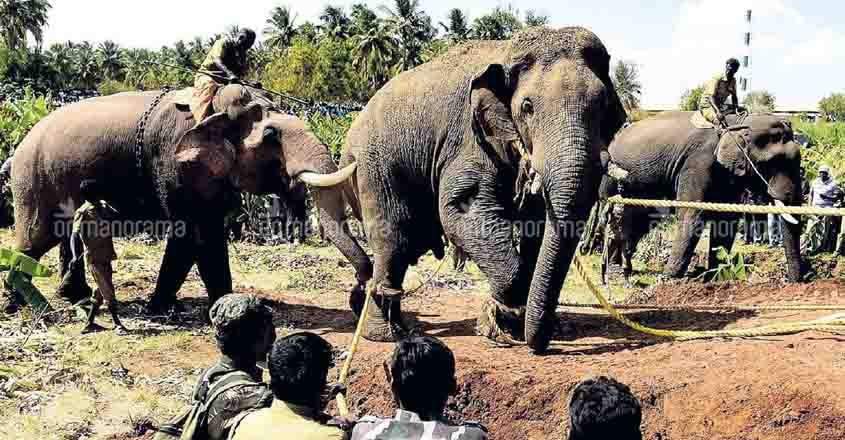 Marayoor: A wild tusker, which has been raiding the agricultural fields for the past two weeks, was captured safely and shifted to the Top Slip elephant camp of the Tamil Nadu forest department. The future course of action would be decided after giving medical treatment and ample rest to the jumbo, the foresters said.
It took almost nine hours for the forest department officials to capture the rogue jumbo named Chinnathambi. The tranquilised pachyderm was loaded onto the elephant ambulance, which was brought from the Wayanad Wildlife Sanctuary, with the help of kumkis (trained jumbos employed to trap and tame wild elephants.)
The forest personnel took all precautions to not harm the elephant as there was a Madras High Court order stating that the jumbo should be safely captured. They restarted the operation at 5.30 am on Friday as the efforts to capture the jumbo on Thursday went in vain.
The wild elephant was at the sugarcane fields of Kannadiputhur, and the forest personnel were monitoring its movements with the help of a drone. Two kumki elephants – Kalim and Mariyappan – were sent inside the fields to smoke out Chinnathambi. Tiruppur forest officer P K Dileep, Veterinary doctor Ashokan and former forest department officer Thankaraj Paneerselvam were all geared up to tranquilize the jumbo as the rogue elephant reluctantly came out of the fields by 9.30am.
The first shot missed the target but second one had hit the leg of the elephant. But the forest personnel were not sure whether the tranquilizing dart had the desired effect as the tusker ran into the sugarcane fields. After one hour, a calm Chinnathambi came out of the fields, and another tranquilising shot was fired at the pachyderm. Though the wild tusker once again ran into the sugarcane fields, it was brought to the nearby banana plantation with the help of the kumkis. But the rogue elephant stayed put at the plantation. The officials paved a path, with the help of an earthmoving machine, to the plantation for a truck. The wild elephant was loaded onto the lorry at 3pm. The tusker was immediately checked by doctors, and later taken to the Top Slip elephant camp.