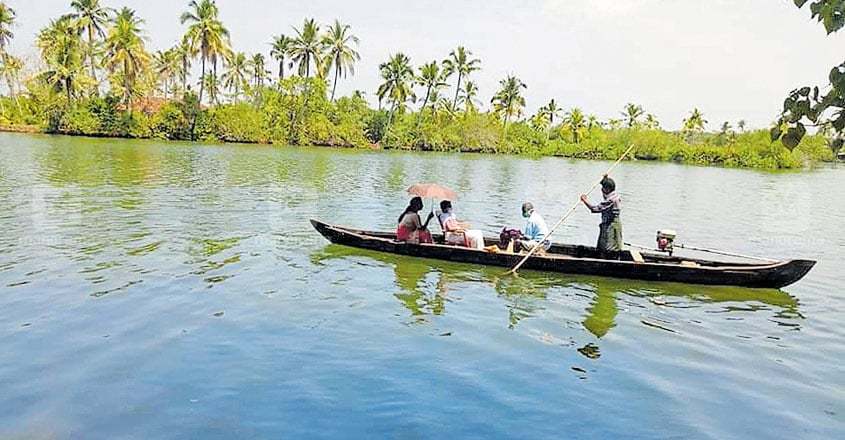 Kollam: Lockdown has made life extremely difficult for residents of Perungalam, an island in the backwaters of Kollam district. As part of the restrictions, the government boats connecting the island to the mainland have stopped services and the ferry timings have been severely reduced.
The ferry, run by the Public Works Department (PWD), used to be operational round the clock earlier. But now they are available only from 6am to 9am and from 2pm to 5pm. As a result, even critically ill patients cannot be taken to hospital without delay. The local people had submitted several complaints in this regard to the authorities but to no avail.
The island, where around 200 families live, is linked by ferries to Konnayilkadavu, Thevalakkara, Arinallur, Pattamthuruthu and Kidapram Malayilkadavu.
Meanwhile, the Munroe Thuruthu grama panchayat has recently started ferries at Chirayilkadavu and Pulimoottilkadavu after the Konnayilkadavu bridge collapsed.
As the ferry timings have been cut short, residents of Perungalam are forced to depend on private canoes or speed boats to rush patients to hospital. However, most of these boats charge around Rs 600 for a two-way trip. Moreover, these private boats too may not be available all the time. Considering the situation, local residents have demanded that ferries should be exempted from the lockdown.
C J Jose, who operates a ferry, said contact numbers have been displayed at the boat landing areas. "During emergencies, we often take people across the lake even when it is not the operational time. People going to schools and employees of Kerala State Electricity Board travel in the ferry this way," he said.