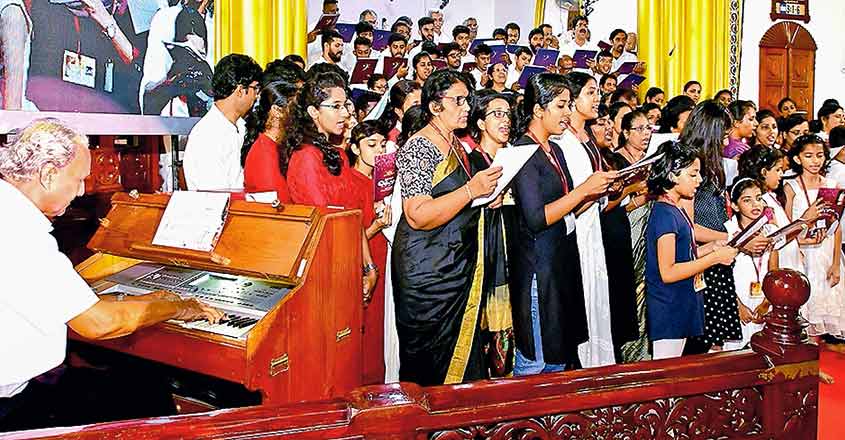 Kottayam: A place of worship becomes more spiritually enriching with music. For decades, organist VC Cherian lent a hand in exalting the ambience of the Jerusalem Mar Thoma Church in the heart of Kottayam town. Five church choirs across the town came together to pay tribute to Cherian who had struck all the right chords in their hearts. The Church honoured their organist with a musical tribute named 'Great is thy faithfulness' on Sunday to mark his birthday.
Popularly known as VCC amongst the Marthoma diocese community of Kottayam, Cherian has been an active presence in the choirs of Kottayam for the past 68 years.
"VC Cherian has gifted our community with wonderful songs," Dr. Joseph Mar Thoma Metropolitan, the supreme head of the Malankara Mar Thoma Syrian Church, said on Sunday.
The event was graced by Justice KT Thomas (retired), Justice Satish Nainan and music composer Rev Sajen P Mathew.
A CD and book containing a collection of Cherian's songs were also unveiled at the ceremony.
The five choirs-- Kottayam Mixed Voices, CSI Holy Trinity Cathedral Choir, Manganam St Peter's Marthoma Church Choir, The English Fellowship (North-East choir) -- sang hymns as a tribute to the organist who served them for the past 40 years.
Cherian too joined the symphony with his keyboard wielding his magic. Taking his legacy forward his son Cherian Varghese and grandson Rohan Cherian joined the choir taking the music night to a crescendo.
A member of the Vazhavayalil family, Cherian, first read the piano in 1952. He composed the song 'Namaskaram Deva Namaskaram' (Greeting Lord, Greetings) at the age of 20.
A collection of his songs has been published in the book 'Harp in Lyre' by Dr Ashwin Thomas.
Cherian was also part of the CMS College choir.
Cherian, who turned 85 on October 9, however, has no plans to retire. The upcoming Christmas season and carols keep him occupied.