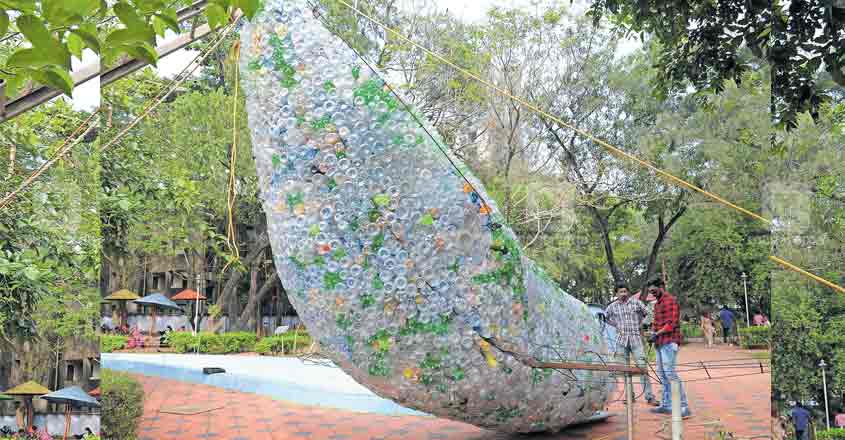 Kozhikode: India is taking serious efforts to combat plastic pollution. Plastic litter in seas is taking a toll on marine life and the situation is so grave that many species of water mammals and fish are on the verge of extinction world over. A reflection of this growing menace is the large number of plastic waste found in the stomachs of dead whales that wash ashore. Even cattle on land suffer as images of plastic being extricated from dead ones prove.
In a bid create awareness about this environmental issue, a unique initiative has been taken by the Regional Science Centre here. It will display a mammoth whale model that is being made by stacking up thousands of used plastic bottles.
Around 7,000 bottles have been used to make this whale form raised over the pond on the center's premises. The bottles strewn around the centre's campus and in various parts of the city were collected to make this thought-provoking whale.
The 'plastic' whale was inaugurated by litterateur M T Vasudevan Nair on November 14.
As Kerala too has a long way to go before curbing plastic pollution effectively, initiatives like the one by the Regional Science Centre are apt. Kerala produces 480 tonnes of plastic waste per day as the administration fails to enforce a ban on plastic material below 50 microns. On an average, a family in the state produces 60 grams of plastic waste per day, the Kerala Suchitwa Mission has estimated.
Recently, PTI had reported that more than 1,21,000 metric tonne of plastic waste is being "slyly" imported in India by companies and recyclers.