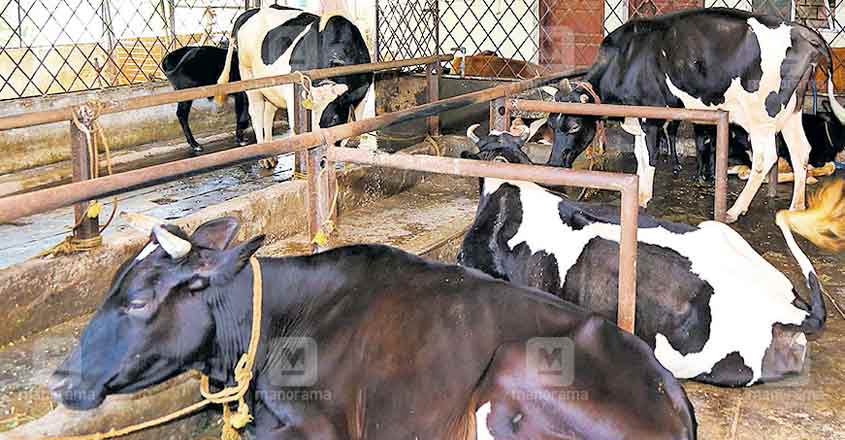 If you need to get pure milk, you need to breed cows, goes the old saying.
Cows and cattle breeding had been prevalent in our villages for ages. Ancestral homes had huge cattle sheds, seen as a mark of their prominence and wealth.
However, these have become rare sights these days. But the Sabarimala Sannidhanam has a huge goshala (cattle shelter). All the milk needed for the temple rituals and offerings are provided by the cows in the goshala. There are 25 cattle, including calves. Four of them are bulls. The cows are of the high-quality breeds such as the Vechur.
Sunil Swamy of Cherpulassery in Palakkad district, who runs a cashew business in Kollam, had built the goshala at the Sannidhanam.
He had given cows as offering to the Lord seven years ago. Over the years, these bred and filled up the goshala. Sunil still looks after all the expenses. He has fitted fans and lights for the cows.
A 40-year-old West Bengal native, Anand Samanth, looks after the cattle. He believes it to be a great blessing to take care of the cattle at Sabarimala. His daily chores begin in the wee hours and he wakes up by 2am. He has to first clean up the shed. Holy water is sprinkled on the cows and a lamp is lit.
Before the shrine opens for Abhishekam, the milk would be taken to the temple. The milk for Ashtabhishekam is also from here. The remaining milk is taken the Devaswom and PWD offices. After giving food and water to the cattle, they are given a bath.
He has to again give milk to the temple at 3pm.
Fresh grass and hay are available in plenty for the cattle. After the peak pilgrimage season at the temple, the cattle are taken out for grazing, mainly at Pandithavalam area. Due to the rain, there is no dearth for fresh grass. Apart from that, grass is cut and brought to the shed. Loads of cattle feed have also been stocked up. These are brought in vehicles to Pamba and from there taken in tractors to Sannidhanam.
Anand sleeps at a room near the goshala. There are also 21 chickens and five goats. As the number of cattle is increasing, it has been instructed to move it to a much bigger space.