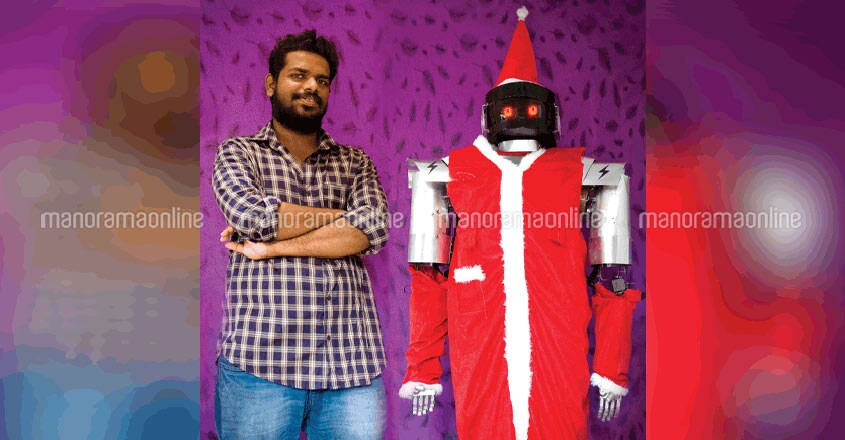 "Happy Christmas!" said the Santa Claus, extending his hand to Sevin Vincent. That made the youth so elated that he even shed tears of joy.
Making this Santa speak was a long-time dream of Sevin, an engineering graduate from Angamaly. The reason: The Santa was not any man dressed as the bearer of gifts during Christmas, but a robot designed and made by Sevin.
It was Sevin's wish to make a working robot all by himself that came true in the form of Santa Claus. As any parent would feel thrilled when their baby starts speaking, Sevin too experience a boundless joy.
Robot at Oberon Mall
Sevin's Santa robot is now displayed at Oberon Mall in Kochi. Along with wishing a Merry Christmas, the robot gives a message related to Christmas to people. The robot speaks based on the voice command and moves on a tyre.
Sevin's efforts
Sevin had returned to his native place after completing B Tech from RIT at Hassan in Karnataka with the dream of creating his own robot. However, his parents were apprehensive and were concerned about his future. But Sevin was not prepared to let go off his dream.
He worked hard day and night at the workshop in his house. The initial efforts were fruitless but he won over the support of his parents.
Delayed project
The youth's first aim was to create a robot in the shape of Mahabali that wished everyone a 'Happy Onam'. Sadly, Sevin could not complete the work before Onam. His next goal was a robot that welcomed guests at a wedding ceremony. The plan was to surprise everyone at a relative's marriage. However, that effort too failed.
Santa was the third idea to strike Sevin. He concentrated all his energies on making a Santa before Christmas. The two-month-effort finally paid off and Sevin created a life-size Santa.
Robots of the future
The world was rocked recently when Saudi Arabia offered citizenship to Sofia, a robot. Everyone saw the robot facing interviewers tactfully. Such developments will become commonplace in future, according to Sevin, who has high hopes of building a career in the robotics sector. His aim is to create separate robots suitable for each workplace.
Now, having crossed a major milestone, Sevin is preparing to fly to Canada for higher studies. Sevin is the son of Vincent and Selin of Kallrakkal in Angamaly. He has a brother, Senvin.