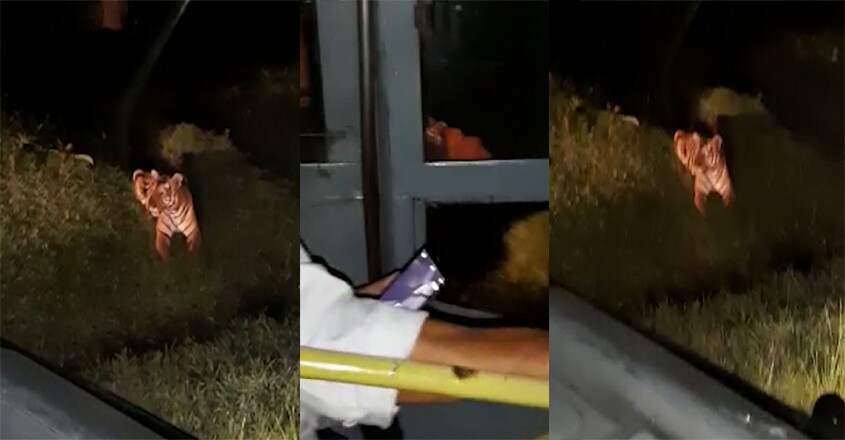 Mananthavady/Panamaram: Reports of man-animal conflict are often reported from the lands bordering forests in Kerala. Frequent sightings of tigers are being reported from Wayanad of late. Visuals of a tiger rushing towards bike riders at Pambra on the Pulpally-Bathery Road had gone viral on social media recently. Now the video of another tiger is circulating even as the fear of wild animals has gripped the area.
The latest video shows the tiger lying on the roadside as a KSRTC bus passes. The wild beast is also seen walking away after some time.
It is likely the tiger emerged from the forest area at Tholpetty.
Some passengers had also shot the images of a leopard crossing the road near Tholpetty check-post on Tuesday night.
The Forest Department officials say the sightings are not unusual. "There are many wild animals in the jungle and their presence on roads through the woods is natural," said an officer.
Frequent attacks
Wild elephants and tigers are making life hell for people in the settlements like Gandhi Nagar near the forest. Recently, a spotted deer that strayed into a farm area was killed by a tiger and eaten.
The incident happened on a farmland belonging to Chalil Sugathan at Gandhi Nagar in Poothadi panchayat. When Sugathan reached his farm early in the morning to cut grass, he saw blood. Further investigation led him to the kill, a half-eaten carcass of a spotted deer around four years of age. Pug marks of a tiger were noticed nearby, and the Forest Department was informed. Officials reached the spot soon and took further action.
A few weeks ago, remains of a deer preyed on by a tiger were found at the field belonging to Pathazhakkala Viji, which is close of Sugathan's farm. The Forest officials who had inspected the deer carcass on Viji's farm had promised to install surveillance cameras in the area. However, no further steps were taken.
Three days ago, a tiger had passed in front of a farmer heading to a milk collection centre of the cooperative society in Gandhi Nagar.
Meanwhile, protest is mounting in the area against the lackadaisical attitude of the authorities, who have neither installed cameras nor set up a trap for the tiger. Making matters worse, wild elephant herds regularly stray into the fields, destroying crops. The most recent incident took place in the farm of Kulangattil Johny.
With no let up in the situation, local people are planning agitations.