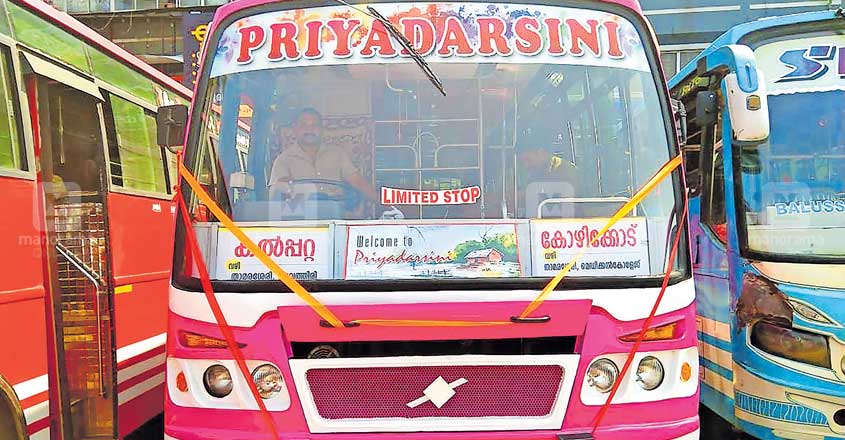 Mananthavady: A generation in Wayanad was familiar with the Priyardarsini buses that were a common sight along the roads for nearly three decades. These buses which were owned and run by the Wayanad District SC-ST Motor Transport Cooperative Society since 1986 stopped their service sometime after 2016 owing to losses. Now a bid is being made to revive the bus cooperative and deploy all its vehicles on roads after they are repaired.
Mananthavady-Kozhikode and Mananthavady-Sulthan Bathery services were restarted recently. Mananthavady-Vallad service too is on.
The employees raised the money for the repair works with the approval of the cooperative ruling council which has the Wayanad District Collector as its chairman and Sub-Collector as the managing director.
The cooperative currently has 20 employees, including office employees and bus crew.
The group initially had eight buses, including two sleeper coach buses for the Thiruvananthapuram route and one tourist bus.
After a three-decade run the cooperative faced financial troubles and suffered huge losses. Its authorities were unable to pay for tax and insurance, nor find money for the regular maintenance works. Soon the buses which were on the roads till 2016 had to be withdrawn from service and were parked all these while.
Seven of these buses were worn-out and were not in service, Manorama Focus had reported earlier.
These buses are set to make a comeback after repair works. Authorities and staff are planning to restart the services to Thiruvananthapuram, Pulpally, and Thirunelli.
The Priyadarsini office functions from its own building situated on the six-cent land allotted by the government near the Mananthavady police station.
The cooperative society was formed in all 14 districts of Kerala by the then Kerala Chief Minister K Karunakaran in memory of former Prime Minister Indira Gandhi who was affectionately called Priyardarshini. As it aimed to provide jobs to tribal youths, the Scheduled Caste/ Scheduled Tribe Development Department spearheaded the initiative.
Though the society failed in the rest 13 districts, it managed to hold on in Wayanad.