Lijo's brand-new house at Mundakkayam in Kottayam, Kerala, is a simple and classy abode that has all the facilities required for a small family. The owner is an aluminium fabrication worker; the family had been living in a quaint house with limited facilities for years. It was their biggest dream to own a beautiful house that has all the amenities.
The house stands in a 7 cents plot that the family purchased near their ancestral home. As a road runs through the front, it was almost impossible to have a spacious front yard. Meanwhile, there is a stream on the backside. However, these limitations were overcome with proper planning and perfect execution.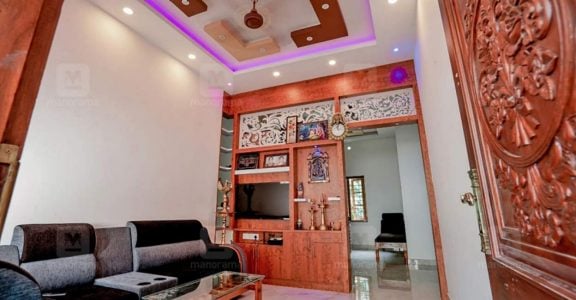 The colourful elevation grants a grace to the house. Meanwhile, the flat box style perfectly suits the small plot. Show walls have been designed around the windows in the front as an interesting designer element. Besides this, show walls in terracotta shades have been added on the sides too. Meanwhile, the groves and the texture painting exude radiance.
Designed in 1350 sqft, this splendid house has a sit-out, living and dining areas, kitchen with an adjacent work area and three bedrooms.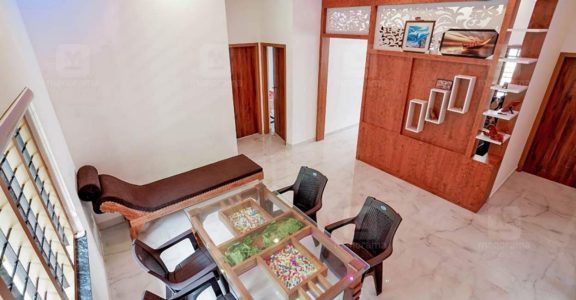 The entrance door opens to the elegantly furnished living and dining areas. Interestingly, the TV wall and the pooja space in the centre acts as a semi-partition. The false ceiling and the matching light fittings add a fabulous ambience to the living-dining areas. Moreover, this lends a classy vibe too.
As Lijo is an aluminium fabrication worker, the interior works were mostly done by himself, adding a personal touch. This had even helped in reducing the expenses.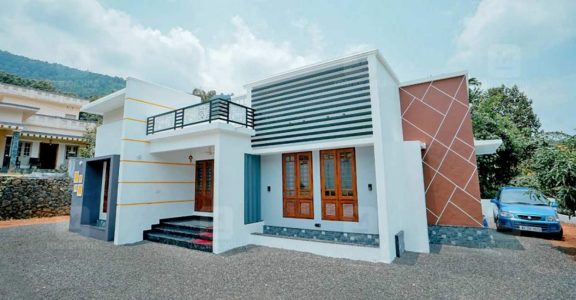 The dining table set is simple with a small glass top dining table and ready-made chairs. A quaint diwan cot completes the furniture here. Meanwhile, the wash area is highlighted with cladding works. Storage spaces have been arranged beneath the wash area.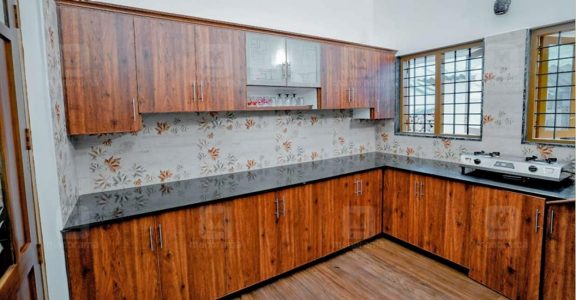 ACP sheets are paved on ferro cement slabs to make the kitchen cupboards. The countertop, meanwhile, has been paved with granite.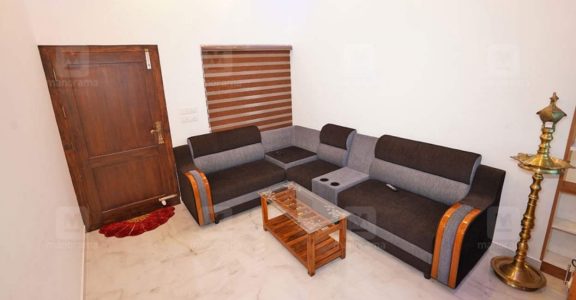 The bedrooms are simple and have the necessary facilities. Two bedrooms are bath attached. The owner himself had done the ACP work on the wardrobes here.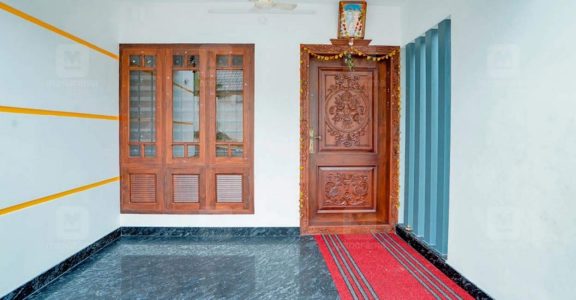 A staircase is built on the backside of the house to access the open terrace. This would allow the family to build an additional floor, if required, in the future.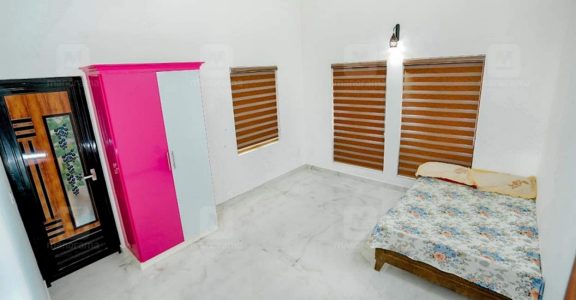 The construction had to be stalled for a while during the lockdown period. However, when it was resumed, the price of the materials had skyrocketed. This was an unexpected blow as the budget overshot a bit. Despite all these hurdles, the owner of this fabulous abode could complete the construction, including the structure and furnishing, for a reasonable budget of Rs 28 lakh.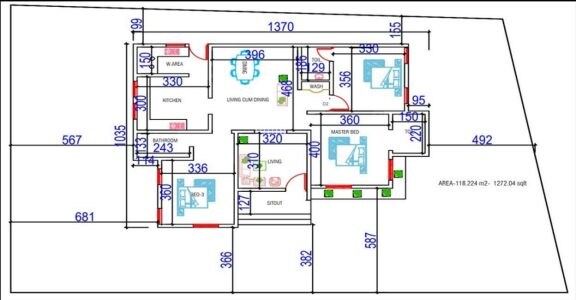 Project Facts
Location – Chittadi, Mundakkayam
Plot – 7 cents
Area – 1350 SFT
Owner – Lijo
Contractors – Achu, Cyril
Foresight Homes
Mob – 9947137756
Budget – Rs 28 lakhs
Year of completion – April 2022