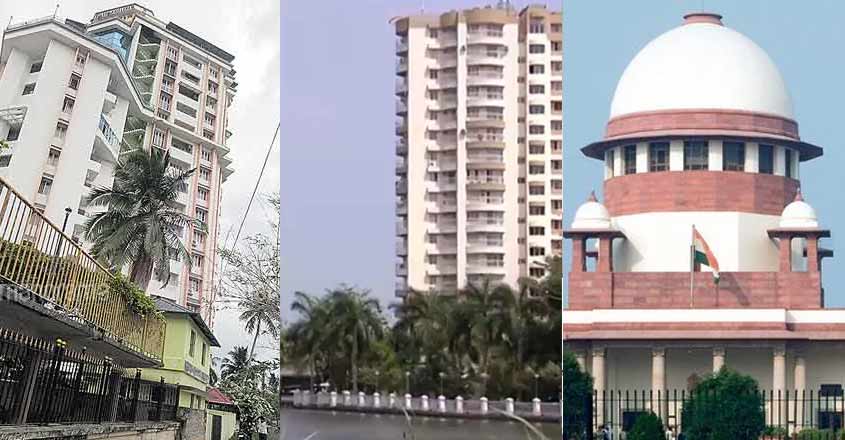 New Delhi/ Kochi: The Supreme Court on Thursday rejected all four review peititions filed by the flat builders in Maradu in Kerala's Ernakulam district.
This means around 350 flats, which violated the Coastal Regulation Zone (CRZ) rules, have to be razed immediately.
On May 8, the apex court had ordered the demolition of around 350 flats in five highrises in Maradu municipality limits in a bid to rein in marauding real estate developers encroaching upon eco-sensitive coastal belt.
The erstwhile Maradu panchayat (which later became a municipality) had granted permission for the construction in 2006-07 without informing the Kerala Coastal Zone Management Authority.
The government had restricted construction within 200 metres from the coasts in areas that come under the CRZ-3 category. Any form of construction in this belt needs the clearance of Kerala Coastal Zone Management Authority.
The Supreme Court bench headed by Justice Arun Misra said Kerala cannot withstand natural calamities caused due to illegal constructions. The state had suffered the worst floods in a century in 2018.
The flat complexes include 350 units of Alpha Ventures apartments' double-flat complex at Nettoor, Holy Faith's H2O towers at Kundannoor, Holiday Heritage's Kettezhethu Kadavu Jain Coral Cove and Golden Kayaloram. All these towers are situated within 10km radius of Kochi city.
Kerala High Court's single bench had quashed a notice by the municipality that sought to cancel the permission for construction.
A division bench of the High Court, comprising Judges Antony Dominic and Shaji P Chaly, had upheld the ruling in June 2006, prompting the Coastal Zone Management Authority to approach the Supreme Court.
The High Court had ruled that the municipality was solely responsible for the illegal construction and those who got the permission cannot be deemed as guilty.
However, the municipality contended in the SC that the panchayat secretary and the builders had colluded to carry out the construction. The panchayat secretary had since been removed from the service, the municipality pleaded in the court.
The SC also considered a report submitted by a court-appointed panel, including the district collector and municipal secretary, before quashing the High Court order. The court agreed to the argument that when the approval for the construction was given the area was in CRZ-3.