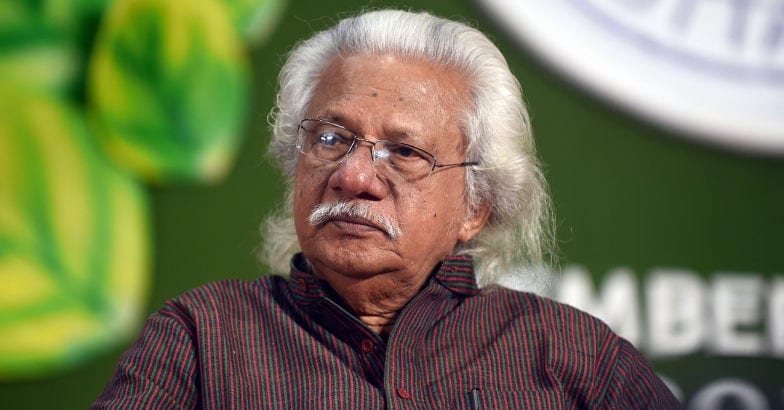 Veteran filmmaker Adoor Gopalakrishnan has reacted sharply to the Bharatiya Janata Party's call that he should go to the Moon if he cannot bear the chanting of 'Jai Shri Ram' in India and elsewhere.
"BJP leaders want me to go to the Moon, because Pakistan must be filled by now," Adoor told Onmanorama over phone Thursday.
Kerala BJP leader B Gopalakrishnan issued the statement in a Facebook post on Thursday.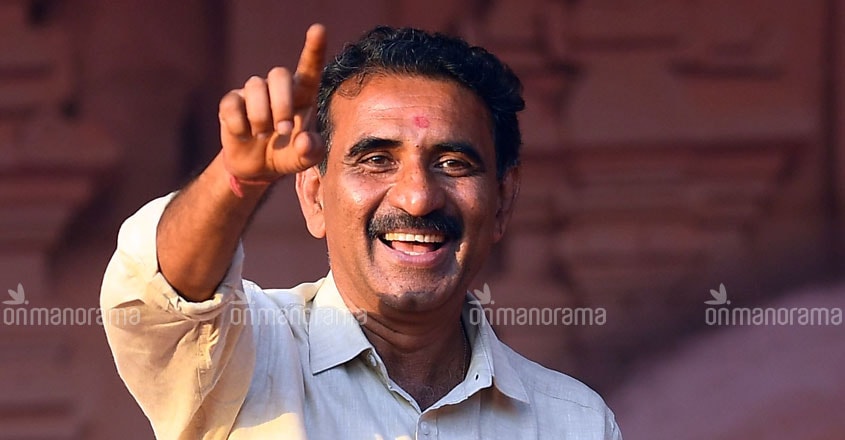 Gopalakrishnan, known for his foot-in-the-mouth remarks, was provoked by a letter sent by 49 celebrities from various fields, including Adoor, against lynch mobs using 'Jai Shri Ram' to target religious minorities.
According to Gopalakrishnan, people of India voted BJP to power to facilitate chanting of "Jai Shri Ram". "We would chant it in front of Adoor's house, if need be," he wrote.
'Pakistan must be filled now'
Asked why the BJP leader wants him to go to the Moon instead of Pakistan, Adoor told Onmanorama that "Pakistan must be filled now".
"If there is a Chandrayaan-3 mission and if they issue me a ticket, I would be happy to grab that opportunity as I can move around the orbit," Adoor said in a lighter vein.
Many times in the past, leaders of the saffron outfit had urged people who stood against its ideology to go to Pakistan.
Stating that the signatories of the letter to the prime minister do not belong to any political party, Adoor said there was nothing in the letter to provoke the BJP. He said Gopalakrishnan's statement was justifying mob lynching. "It should not be justified by anyone. Gopalakrishnan should rectify his mistake and apologise," he said.
"Our letter was in protest against the use of Shri Ram's name as a war-cry. It has become a trend to attack those belonging to religious minorities over frivolous issues and force them chant 'Jai Shri Ram'. The attackers believe that they could get away with the crime because they won't be identified individually from a mob. But perpetrators of such crimes deserve death penalty," Adoor said.
"Lord Ram is an epitome of humanity. These mobs are actually insulting him," he said.
"The BJP leader is saying that I insulted Lord Ram. Only a crooked mind can come up with such interpretations," he said.
Expressing his concern that such incidents of lynching could lead to communal riots, Adoor said the Narendran Modi government, which has begun its second term, should find a solution to the menace.
The celebrities, including filmmakers Shyam Benegal and Aparna Sen as well as vocalist Shubha Mudgal and historian Ramchandra Guha, have said in the open letter to Modi that "there is no democracy without dissent".
The letter also noted that Jai Shri Ram has been reduced to "provocative war-cry".
"We, as peace-loving and proud Indians, are deeply concerned about a number of tragic events that have been happening in recent times in our beloved country," the letter dated July 23 said.
"The lynching of Muslims, Dalits and other minorities must be stopped immediately. We were shocked to learn from the National Crime Records Bureau that there has been no less than 840 instances of atrocities against Dalits in 2016, and a decline in the percentage of convictions," it noted.
They also regretted that "Jai Shri Ram" has been reduced to a "provocative war-cry" and alleged the prime minister's inaction on the issue.
"You have criticised such lynchings in the Parliament Mr Prime Minister, but that is not enough! What action has actually been taken against the perpetrators?"
"Ram is sacred for the majority community, stop defiling the name of Ram," the letter read.
Kerala State Chalachitra Academy chairman and filmmaker Kamal condemned the BJP leader's statement.
Echoing Adoor's reaction, Kamal said the BJP leader might have wanted to send Adoor's to some heights as he has won high honours such as Phalke award and Padma Bhushan.
"Gopalakrishnan said Adoor signed the statement as he wishes to get something from the government. I feel embarrassed to listen to a Malayali speaking like that. How can we call him a politician? He's a criminal and anti-national," Kamal told reporters in Thiruvananthapuram.
In January 2017, Kamal had come under a similar attack from BJP leaders.
On January 9, the BJP's state general secretary AN Radhakrishnan said Kamal should leave India if he was not interested in living in the country. The statement was triggered by the director's criticism of the arrest of 12 people at the International Film Festival of Kerala in Thiruvananthapuram in December, for not standing up during the playing of the national anthem before movie screenings.
The BJP had also alleged that Kamal was appointed the chief of the state film body for his anti-Modi stances.
Kerala Pradesh Congress Committee president Mullappally Ramachandran also condemned Gopalakrishnan's statement against Adoor. He said that if BJP tries to impose blind religious faiths on others, Congress would never approve it. He said BJP should withdraw the statement and apologise to society.