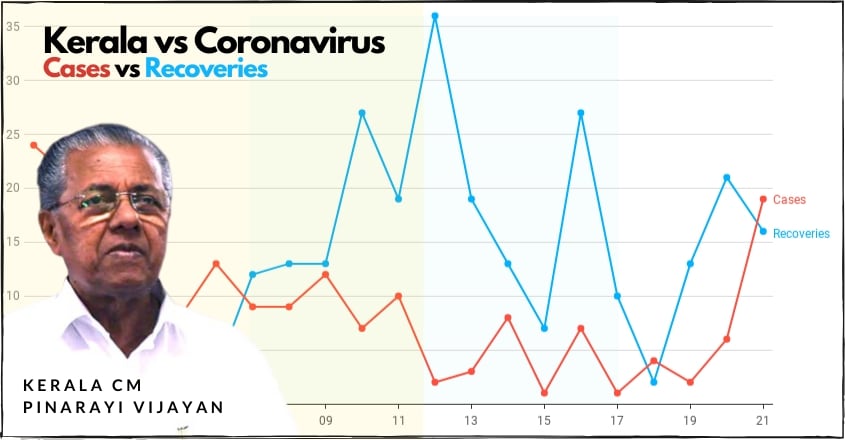 Just when it had seemed the virus had lost momentum in Kerala, Tuesday saw an abrupt and shocking jump in fresh COVID-19 cases.
After nine consecutive days when new cases happened in single digits, below five on six of these days, the number of newly infected exploded to 19 on Tuesday. This is the third highest tally of fresh cases in a day this month; the other two were 24 (April 1) and 21 (April 2). The day also saw, for the first time in a fortnight (barring April 18 when cases were 4 and recoveries 2), fresh cases outnumbering the recovered. On Tuesday, the number of recovered was 16.
Upcurve in Kannur
Of the 19, ten are in Kannur. It is also for the first time that 10 new cases were reported on a single day in Kannur; Kasaragod still holds the Kerala record for most number of cases in a day: 30. With this sudden single-day spurt, the total confirmed cases in Kannur crossed 100; it is now 104. The active cases in the district are 54, more than double the active cases in Kasaragod (26).
It has also been found that 'room quarantine' was not being followed rigorously in Kannur. "Ten people in a house had contracted the virus from contact alone," Chief Minister Pinarayi Vijayan said during his customary sunset media briefing on Tuesday. He said Kasaragod-like stringent lockdown measures had already been imposed in Kannur.
Hotspot areas have been fully sealed and only select pharmacies have been allowed to operate. And there will be only home delivery of essential items in the hotspots n Kannur and Kasaragod.
Kasaragod, which had not reported more than two cases in the last 10 days, saw three new cases on Tuesday. Palakkad, which had not recorded a sngle positive case since April 13, had four new cases on the day. Kollam and Malappuram, which had not recorded a new case since April 9 and 11 respectively, had one fresh case each.
Unending Gulf cases
The three new cases in Kasaragod and nine of the 10 new cases in Kannur were foreign returnees. Meaning, 12 people who had returned from foreign countries, mostly Gulf, on or before March 22 have tested positive 30 or more days after their return.
This late emergence of positive cases among returnees has been a recurrent feature in the last fortnight and the official stand is that there was nothing to worry. The general refrain was that these are people with low or no symptoms and are, therefore, not infective.
Nonetheless, for a change, the government has decided to act. It has been decided to scale up testing in Kannur and Kasaragod. "All non-resident Malayalis who had reached Kerala after March 12 and heir high-risk contacts will be subjected to tests regardless of whether they have symptoms or not," the Chief Minister said.
This was also the first time the Chief Minister was responding to the trend of delayed positive cases. He said he was told that in certain people the virus could linger on long after it had lost its infective power. He, however, said the issue would be probed in detail by experts.
Cross-border threat
It is true that Kerala has shown amazing resilience in its fight against COVID-19 but it has also found it hard to ignore certain perplexing developments. One baffling trend was returnees turning up positive very late. This is now being addressed by stepping up testing.
Something more dangerous seems to have happened in Palakkad, Malappuram and Kollam. In all these three districts that border Tamil Nadu, the virus was found in people who had sneaked into Kerala through secret forest paths from Tamil Nadu where there is an exponential rise in COVID-19 cases. "This tells us that we have to strengthen vigil along our borders," the Chief Minister said.
Kerala's eternal patient
The intriguing case of a 62-year-old woman who had been in hospital for 42 days, and had yet not turned negative, is another cause for worry. She was one of the primary contacts of the Italy-returned Ranni family that began the post-Wuhan wave in Kerala. She has been isolated in Kozhencherry District Hospital since March 8 and her 21st sample, too, had turned up positive on Tuesday.
Doctors have exhausted ways to treat her but what is of relief is that she does not have any major symptoms. Her seemingly eternal illness has but effectively thwarted the Health Department's plan to cut down the double testing of COVID-19 patients before they are discharged from hospitals.
It was widely felt that the insistence on two back-to-back positive results for freeing a patient from the hospital was a waste of Kerala's limited testing facilities.
"It is generally acknowledged that a patient ceases to transmit disease after eight or ten days of infection. Even if the patient tests positive after the infective period of eight to ten days it does not mean that he or she would be infective. So if a patient tests negative there is no pont in doing another re-confirmatory test. The method is using up both our time and resources," a top health official in the core team said on condition of anonymity. "We are trying to convince the government and also the ICMR (Indian Council of Medical Research) to issue new testing guidelines," he added.
The new policy will now have to wait given the lingering illness of the Kozhenchery patient.
Asymptomatic cases and future immunity
The predominance of asymptomatic and oligosymptomatic (lightly symptomatic) patients among the infected has also thrown up complex questions. Mildness is clearly a boon in the short term as these patients, it is said, are not infective.
But there is a long term concern. Will these mildly infected persons develop enough immunity, or the necessary levels fo antibodies, to crush Sars-CoV-2 should it decide to attack them for a second time.
Generally, it is said the antibodies generated in the body against the coronaviruses that cause the common cold and also SARS were good enough to repel any second attack for a few years. Since Sars-CoV-2 is a brand new variant, the guess is that the antibodies against it would stay powerful for at least a year.
But how much of antibodies should be generated to stay protected from any future attack is still not clear. Certain studies conducted in China on COVID-19 patients have found low antibody levels and in some antibodies were not even detected.
Given the low virulence in Kerala, and the increased sighting of asymptomatic patients, there is a chance that at least some COVID-19 survivors would not develop enough immunity against the virus.