New Delhi: President Droupadi Murmu on Wednesday conferred Padma awards to renowned people and unsung heroes, including three Malayalis.
The President had approved the conferment of 106 Padma awards, including three duo cases (in a duo case, the award is counted as one), on the eve of this year's Republic Day. A few awards were conferred posthumously.
Four Malayalis were among the Padma Shri winners, namely Gandhian VP Appukutta Poduval, agronomist Cheruvayal Raman, Kalari gurukkal SRD Prasad and historian CI Issac.
Gandhian Poduval, Prasad and Raman were seen receiving their awards from the President on Wednesday, when a total of 54 awards were conferred at the investiture ceremony held at Rashtrapati Bhavan.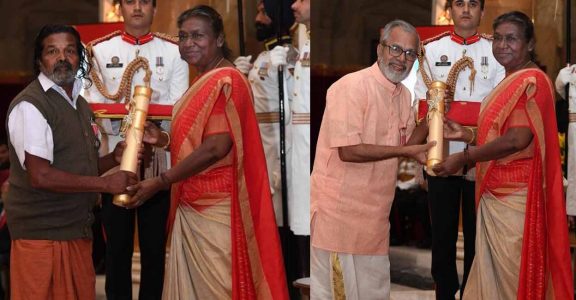 Rest of the awardees would be conferred the honour in another ceremony later.
Following is the list of awardees:
Padma Vibhushan: 1. Prof Balkrishna Doshi (Posthumous), Architecture, Gujarat. 2. Zakir Hussain, Art, Maharashtra (Not present in the investiture ceremony) 3. Somanahalli Mallaiah Krishna, Public Affairs, Karnataka
Padma Bhushan: 1. Kumar Mangalam Birla, Trade and Industry, Maharashtra 2. Suman Kalyanpur, Art, Maharashtra 3. Prof Kapil Kapoor, Literature and Education, Delhi 4. Kamlesh D Patel, Spiritualism, Telangana
Padma Shri: 1. Jodhaiya Bai Baiga, Art, Madhya Pradesh 2. Usha Barle, Art, Chhattisgarh 3. Sankurathri Chandrasekhar, Social Work, Andhra Pradesh 4. Raman Cheruvayal, Agriculture, Kerala 5. Bhanubhai Chunilal Chitara, Art, Gujarat 6. Narendra Chandra Debbarma (Posthumous), Public Affairs, Tripura 7. Vadivel Gopal and Masi Sadaiyan (Duo), Social Work, Tamil Nadu 8. Hem Chandra Goswami, Art, Assam 9. Pritikana Goswami, Art, West Bengal 10. Dr Modadugu Vijay Gupta, Science and Engineering, Telangana 11. Dilshad Hussain, Art, Uttar Pradesh 12. Bhiku Ramji Idate, Social Work, Maharashtra 13. Dr Rattan Singh Jaggi, Literature and Education, Punjab 14. Bikram Bahadur Jamatia, Social Work, Tripura 15. Rakesh Radheyshyam Jhunjhunwala (Posthumous), Trade and Industry, Maharashtra 16. Guru Thiruvidaimarudur Kuppiah Kalyanasundaram, Art, Tamil Nadu 17. Dr Ratan Chandra Kar, Medicine, Andaman and Nicobar Islands 18. Mahipatrai Prataprai Kavi, Art, Gujarat 19. Maguni Charan Kuanr, Art, Odisha. 20. Prof (Dr) Arvind Kumar, Science and Engineering, Uttar Pradesh 21. Risingbor Kurkalang, Art, Meghalaya 22. Hirbaiben Ibrahimbhai Lobi, Social Work, Gujarat 23. Prabhakar Bhanudas Mande, Literature and Education, Maharashtra 24. Nadoja Pindipapanahalli Munivenkatappa, Art, Karnataka 25. Prof (Dr) Mahendra Pal, Science and Engineering, Gujarat 26. Nalini Parthasarathi, Medicine, Puducherry 27. Dr Hanumantha Rao Pasupuleti, Medicine, Telangana 28. Ramesh Raghunath Patange, Literature and Education, Maharashtra 29. V P Appukuttan Poduval, Social Work, Kerala 30. S R D Prasad, Sports, Kerala 31. Chintalapati Venkatapathi Raju, Art, Andhra Pradesh 32. Dr Bandi Ramakrishna Reddy, Literature and Education, Telangana 33. Mangala Kanta Roy, Art, West Bengal 34. Prof (Dr) Manoranjan Sahu, Medicine, Uttar Pradesh 35. Kota Satchidananda Sastry, Art, Andhra Pradesh 36. Gurcharan Singh, Sports, Delhi 37. Laxman Singh, Social Work, Rajasthan 38. Prof Prakash Chandra Sood, Literature and Education, Andhra Pradesh 39. Neihunuo Sorhie, Art, Nagaland 40. S Subbaraman, Archaeology, Karnataka 41. Vishwanath Prasad Tiwari, Literature and Education, Uttar Pradesh. 42. Dhaniram Toto, Literature and Education, West Bengal 43. Tularam Upreti, Agriculture, Sikkim (not present in the investiture ceremony) 44. Dr G Veluchamy, Medicine, Tamil Nadu 45. Karma Wangchu (Posthumous), Social Work, Arunachal Pradesh 46. Ghulam Mohammad Zaz, Art, Jammu and Kashmir
(With agency inputs)