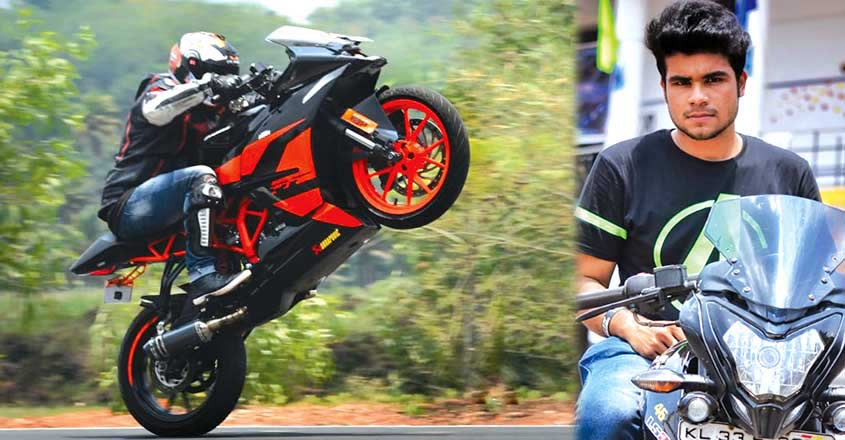 Never in their wildest dreams did his parents think that his craze for racing video games at the age of 14 could be emulated to real life so soon. No wonder that they didn't allow Shahas' wish to hit the race track initially. However, the Pulsar bike the Kottayam native got after getting a driving licence at the age of 18 took him to his dreams.
By learning the racing skills on his own, Shahas won a clutch of top prizes at the KTM Track Day. People were awe-struck when they came to know that the boy who set the track on fire was only 21 and had one lakh viewers on Instragram (@the_demonblack). Nearly 20,000 follow his profile.
Now his family too have accepted his passion. They have understood that their son is not among those who carry out scary stunts on the road; the scintillating performance on the track is Shahas' passion.
Racing should not be done by scaring people on the road, says Shahas. And, that is why he has spent more money on buying safety equipment than the racing bike.
Shahas learned the basics of racing from YouTube videos and similar sources. Shahas has cut his teeth in gusto racing. He regularly takes part in the track days organised by Madras Motor Racing Track and Kari Motors Speedway Coimbatore. His first achievement was the podium finish at Mangalore racing. He entered the top ten list in his first track day itself.
Shahas has also obtained the Federation of Motor Sports Clubs of India qualification certificate too. To take part in track races in India the certificate from the federation is mandatory. Shahas used to weigh 112 km. When racing craze bit him, he reduced it to 68 by following a strict diet and exercise regimen in five months flat. At present he is also training for stunt riding.
A KTM RC is Shahas's partner in the track. He hopes to acquire his dream bike - Ducati Panigale V4 R - to take part in national competitions. Working at Kakkanad Infopark, Shahas has a bigger dream - to take part in the MotoGP, the world's biggest and most prestigious motorcycling championship. For all these, he needs a sponsor.