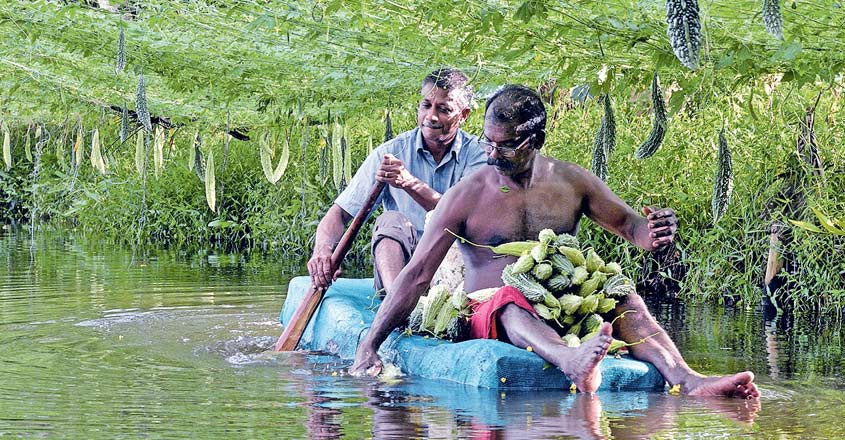 Haripad: This Alappuzha farmer does not need a piece of dry land to cultivate vegetables; a few yards of water body is more than enough for him to reap a good harvest.
Udayakumar, 52, hailing from Karthikapally near here in Alappuzha district, owns more small ponds and less land but that hasn't dampened his spirits to undertake vegetable farming.
His way of cultivating vegetables in water is something exemplary. While the plant will be rooted in land and a canopy will be created above water for the plant to grow and bear fruit.
Udayakumar's experience will vouch for the fact that cultivation in water is apt for growing bitter gourd and snake gourd and other creeper plants. Harvesting the produce is also easy as one could sit on a thermocol raft and pluck the vegetables.
The menace of weeds under the canopy is pretty high while cultivating vegetables on land but cultivation in water takes care of that issue, and another advantage is that pest attacks are less. Udayakumar through his hard work had harvested 700 kg of bitter gourd this Onam season.
Canopy is put in place over 50 cents of water body. Udayakumar usually starts cultivating in water during monsoon when fresh water is available as most of the times water will be brackish. He is planning to create a permanent canopy and expand vegetable farming in water.
Udayakumar is organically cultivating bitter gourds, snake gourds, chillies, spinach, plantains, papaya and tomatoes among others on 5 acres of land.
His experiments in farming do not stop here. He had won widespread appreciation when he pumped water from a bore well by connecting a pump to a motor cycle without power supply.