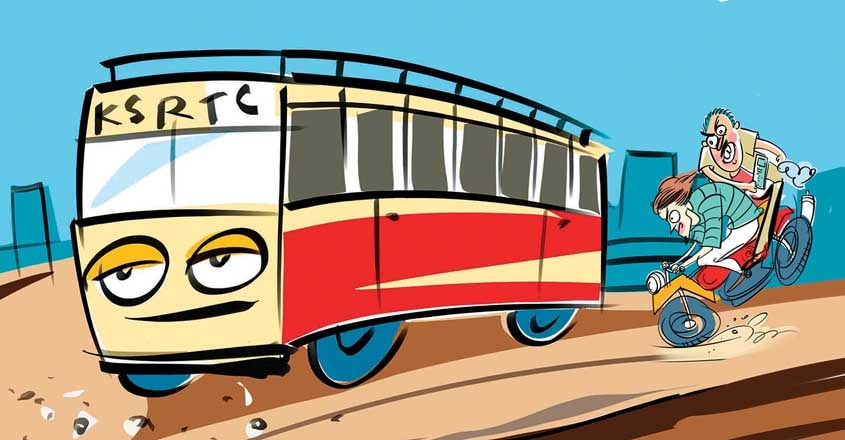 Koothatukulam: A Kerala State Road Transport Corporation (KSRTC) superfast bus missed taking its conductor along the 18-km stretch of its journey. The Sulthan Bathery-Kottayam bus, RSK 444, travelled from Muvattupuzha to Koothattukulam in Ernakulam district without a conductor on Saturday night.
The conductor had got off the bus at the Muvattupuzha around 10pm. Before he could be back on board, a passenger hit the double bell, prompting the driver to resume the journey, it was said. As the bus was full of passengers, neither the bus driver nor the travellers noticed that the conductor was missing. The bus was stopped twice on its way to Kottayam by the passengers who nonchalantly rang the bell for halting the bus and resuming the journey.
However, the poor conductor, who was stranded, informed the depot officials about the situation.
Before the bus reached Koothattukulam, the message was passed on that depot. The conductor was taken to Koothattukulam on a bike by another driver. If it had not been for the depot officials, who stopped the bus, the driver would have continued its trip from Koothattukulam without the conductor.
The conductor finally managed to catch hold of the rogue bus that then resumed its journey to Kottayam.
A similar situation was reported two days ago as well. A Kottayam-bound bus travelled for 7km without its conductor. Before the woman conductor who alighted at Muvattupuzha could return, the bus took off. It was only after the bus reached Meenkunnam that the driver realised that the conductor was missing. The bus was then parked by the roadside and resumed the journey only after the conductor got back on it. One of the passengers had inadvertently rung the double bell, prompting the driver to resume.