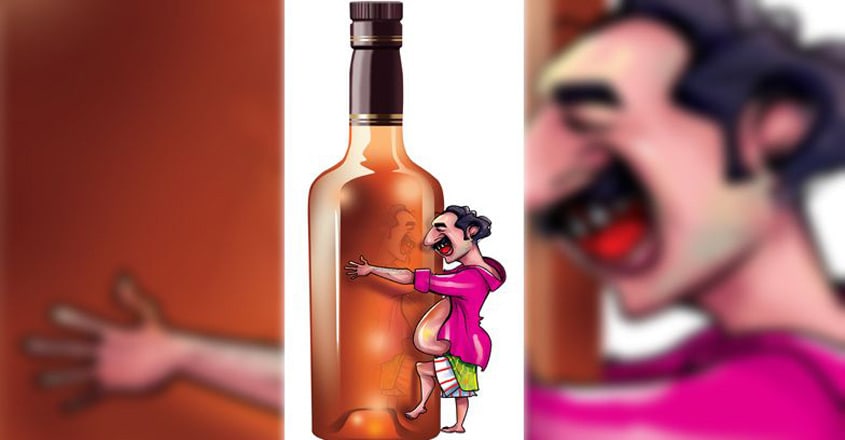 Kochi: The number of murders and attacks carried out by inebriated individuals have been on a dramatic rise in the state of Kerala in the past year or so. The latest on the list is the murder of a worker at a poultry farm at Pothanikkad in Kothamangalam.
Prasad was found dead on the terrace of the farm owner Sajeevan's house on Saturday morning. A pistol used by Sajeevan was found from the spot in a damaged condition. The murder was cracked when the cops took Sajeevan into custody and questioned him.
Though an employer and employee, there were no class differences between Sajeevan and Prasad. Prasad worked at Sajeevan's farm, but they were good friends. They often had a drink or two together.
Last Friday, the two started having drinks and finished half-a-litre by evening. Insatiated, they bought half-a-litre more of liquor from town. After having a peg each from the bottle, Sajeevan asked Prasad to go home after keeping the bottle on the terrace.
Later at night, Sajeevan returned to the terrace to continue drinking, only to find Prasad still there. On being asked why he returned, Prasad told him that he came back to finish the remaining booze in the bottle.
When Sajeevan came to know that the booze that he had kept for himself was finished off by Prasad, he was furious. An argument followed. Sajeevan fetched an air gun from downstairs. Using the stock in the gun, he hit Prasad on his head and face. The man died immediately. The air gun broke into two. Sajeevan told the police that he did not intend to kill Prasad.
After ensuring that Prasad had passed away, Sajeevan devised a means to escape. He decided to plant a story. Prasad, Sajeevan and another friend had decided to go to Sajeevan's farm at Rajakkad on Saturday early morning. They had booked an auto run by Ranjith who lives nearby.
Without knowing about Prasad's death, Ranjith came to Sajeevan's house on Saturday morning. Sajeevan chose not to not tell Ranjith about what had happened the previous night. He told Ranjith to call Prasad and ask him to be ready for the journey.
Ranjith called on Prasad's mobile. When the call didn't connect, Sanjeevan told Ranjith that Prasad might have slept on the terrace and they both reached there. Though Sajeevan was able to fool Ranjith, he broke down during questioning. He told th cops what had happened.
The statements of Ranjith and Sajeevan's wife that she had heard disturbances from the terrace at night were the key clues. The probe was led by Aluva ASP M J Sojan and Pothanikkad CI Suresh Kumar.