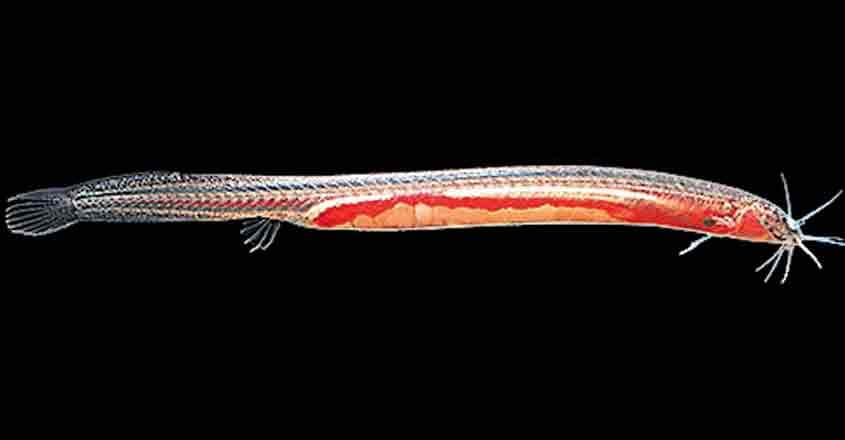 Panagad: Another subterranean fish species has been found in Kerala months after a similar find. The fish that belongs to the eel or loach category has been identified as Pangio bhujia. These are generally found in the fast-flowing streams in the South-East Asian countries.
The Kerala University of Fisheries and Ocean Studies (KUFOS) found the fish in a 6-metre-deep well at Cherinjal in Kozhikode.
"These fish live in underground habitats and have been found for the first time here," said KUFOS researcher Dr Rajeev Raghavan, who leads the study on it.
Vishnu Das of Cherinjal had first spotted the fish and informed the research team in last April. Then a team of KUFOS researchers led by Dr Rajeev Raghavan, scientists from the Indian Institute of Science and Education Research in Pune, a team of scientists from Natural History Museum in London, and environmentalists from the Malabar Awareness and Rescue Centre in Kannur conducted studies and confirmed it to be a new fish.
Dr Raghavan pointed that there were several distinct differences in the physical features of Pangio bhujia from the others in the species. The researchers hope that will get more crucial information about aquatic life from this fish.
Researchers V K Anoop, C P Arjun, Dr Ralf Brits, and Nileesh D were also part of the team. The researchers deduce that there could be many more yet-to-be-discovered fish in the subterranean waters in the Malabar region.
The research team led by Dr Raghavan had found a subterranean snakehead fish in Malappuram couple of months ago. It was named 'Aenigmachanna gollum'. Researchers said that it likely reached Kerala water bodies during the floods.
Recently a rare fish too was found at Cheruval near Puthukad in Thrissur district. It was later identified as the Indian blind catfish (Horaglanis krishnai).